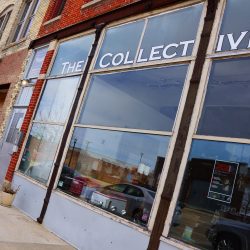 The formal address is 234 Territorial in the Benton Harbor Arts District. Even the broad glass front wall doesn't begin to reveal everything contained within, but the name sums it up nicely. The Collective is a mish-mash collection of like-minded people working to nourish both the body and the soul for anyone venturing inside.
The Collective is the new home of the new Souls Ground Cafe which opened quietly with a soft opening last Friday, April 6th to an overwhelming welcome from close friends and confidants who were privy to the arrival of the renowned Chef Audy, as she is known. The new Souls Ground Cafe is a vegan cafe offering sonic shots, smoothies, sandwiches, soups and more. Owned and operated inside The Collective by Audry Peeples, best known as Chef Audy, the new cafe was actually drawing rave reviews even before it even opened thanks to her sterling reputation.
"Chef Audy" has been cooking with love around the country for many years. She has worked with such culinary talent as Chef Marvin Woods, a celebrity chef, cookbook author, and television host, at his Atlanta restaurant. Chef Audy has cooked at a Michelin Star restaurant owned by James Beard Award-winning chef, Grant Achatz, in Chicago. She was also a personal chef to Chicago-based clients. She has owned her own carry-out establishment and has cooked extensively in the area's restaurants, including work as a Sous Chef at the Double Tree Hotel in South Bend. She has also catered many intimate dinner parties as well as large events.
Chef Audy specializes in creating from-scratch preparation, cooked-to-order dishes comprised of American country comfort foods with an influence toward Southern-style cooking. She enjoys preparing diverse, authentic ethnic cuisine from Thailand, Mexico, the Middle East, Mediterranean, and West Indies. For now, all offerings at her new Souls Ground Cafe are cold foods, or soups that can simply be reheated, because the kitchen needs to be health code approved for cooking on site, which will come later.
Many vegan ingredients are raw anyway, and don't require cooking, so the menu will deal with cold offerings for the time being. In addition to ready-to-eat offerings, the cafe also offers "Grab n' Go" food options and online shopping for herbs, natural products and African imports and more coming soon.
You'll find smoothies and juices with creative names like: Seasonal Love, Electricity, Eye Opener, Omega Pineapple, Super Green, and Ginger Juice. Her coffee offerings are crafted from fair trade organic coffee beans.
Sandwiches include Jack Tacos, Jerk Sliders, Roasted Vegetable Wrap and Chicago Style Vegan Sausage among others. You'll find a nice array of salads from a simple garden salad to a power salad, Chef Audy's Chopped Salad, and more. Visa and MasterCard credit cards are accepted
Chef Audy creates artisan spices and seasoning blends to enhance and add medicinal benefits to herbal teas, soups, sauces, and dressings. Chef Audy's passion is making her dishes as healthful and sustainable as possible. She excels in remaking culinary classics into vegan and vegetarian alternatives.
Chef Audy has also served as Chef de Partie at the acclaimed Mesa Luna Restaurant, a high-end, high-volume local culinary treasure in Sawyer, where she enjoys participating in menu creation and execution. The Souls Ground Cafe is open weekdays (Mon-Fri) from 11am until 3:30pm, taking over following The Rebel Cafe's early hours coffees, and such.
Elsewhere in the house, Luke Andresen is essentially the anchorman of The Collective. It kind of comes with the turf. His background is largely military, having served in both Iraq and Afghanistan with the U.S. armed forces and construction battalion 2526. He's also worked with Seal Team 5, with the U.S. Army Rangers, and has been an intense competitor in extreme sports.
His business, Living in Sinew is a strength training gym that hearkens back to a true old fashioned adult gymnastics center -- an adult jungle gym, as he likes to call it -- where they do gymnastics ring training, parallel bars training, and old-school, turn-of-the-century types of gym activities. Luke says, "I've always been into the strongman types of things, but we've got a wide variety of people being serviced here from athletes to people who have undergone double knee surgery and can't even walk yet." They also offer massage therapy of all sorts.
Luke says, with the Rebel Cafe at the front of the house inside The Collective, and the arrival of Chef Audy's cafe, they help deal with a truly holistic health approach, offering juice cleanses, coffees, smoothies and more. They also focus a lot on meditation in the house.
In the middle of the house between the cafes up front and the turn-of-the-century gym at the back, you will find space occupied by Yoga Muse, from Adrienne Alane White where regular yoga classes are held as well as teacher trainings that can run six months long. In her mat room at mid-house, all sorts of activities take place from gymnastics, to martial arts, from handstand routines to primal movement patterns.
As Souls Ground Cafe's reputation and clientele expand, Andresen says more space will be cleared to allow for a physical expansion of the cafe. He also coyly promises additional "super secret" additions coming to The Collective that will be "pretty incredible." He says if everything goes according to plan, "June will be when everything comes to a head, plays out and we can plot everyone's expansion details."
The Rebel Cafe is staffed Monday through Wednesday from 7am until 10am, and hours vary for the multiple entities under one roof at The Collective. The building is immediately adjacent to the ARS Gallery and in fact shares a common pathway at the back of both buildings.
Andresen, who uses a daily ice bath for his personal meditation, hopes to soon offer a dedicated space for those engaged in meditation. You might find his daily bath a bit extreme for yourself, however, inasmuch as it entails around 50-lbs of ice beginning daily at 5am and over the course of a 15 to 20 minute stay includes total immersion every couple of minutes.
All at the eclectic place they call The Collective in the Benton Harbor Arts District.