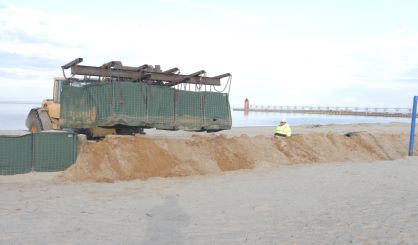 The barriers protecting infrastructure in South Haven from high water in Lake Michigan have been removed. City Manager Kate Hosier tells WSJM News crews took out the sand-filled, cube structures starting last week.
"They were put there in 2020 due to the rising waters," Hosier said. "We have critical infrastructure that's under the beach. We have a million gallon holding tank for fresh water that must be held there for 24 hours before it can be sent out to our water distribution system, and should the high waters have reached that tank, we could have put over 11,000 customers on a permanent boil water notice indefinitely."
Hosier says the Lake Michigan water level is now low enough that the infrastructure isn't threatened. She says beach goers may enjoy a barrier free view, although those barriers had to be put there and could be redeployed if the lake level gets threateningly high again. The barriers at South Beach were removed Monday morning, while barriers near the wastewater treatment plant were taken out last week.