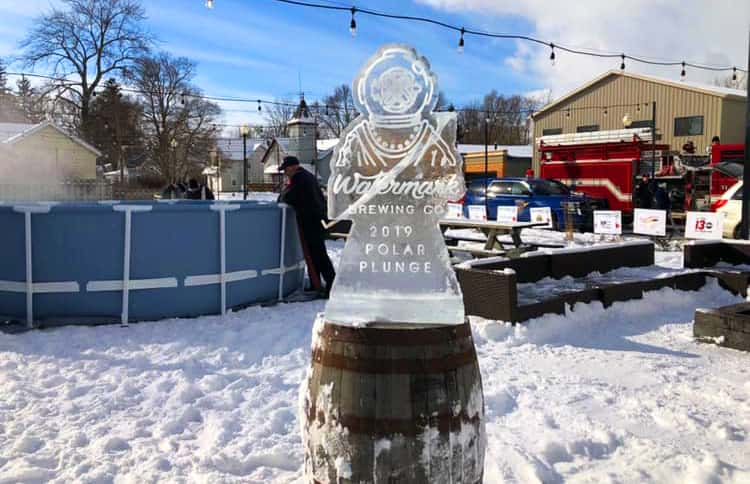 You open your mail and find a direct invitation: "Be Bold! Get Cold!" You've just been invited to join the crew at Watermark Brewing Company in downtown Stevensville to take part in the Berrien County Polar Plunge for Special Olympics Michigan, so put it on your calendar for Saturday, February 1st.
Everyone is invited to be a part of the fun at the Berrien County Polar Plunge 2020 at Watermark Brewing Co. located at 5781 Saint Joseph Avenue in downtown Stevensville.
Registration is open by simply clicking the link below:
https://give.classy.org/BerrienCounty20
You can sign up early to reserve your spot today.
Folks are invited to plunge alone or, better yet, form a team and fundraise $75 per person to earn a 2020 Polar Plunge long sleeve T-shirt: the ultimate badge of courage, proudly worn by Plungers everywhere.
When you go above and beyond the $75 threshold, you can earn even more cool prizes, and best of all the total money raised helps provide free sports training, competition, health screenings and inclusive programs for more than 20,000 children and adults with intellectual disabilities in Michigan.
On the day of the plunge in Stevensville, registration begins at 10 am. The plunge begins at noon, when participants will brave the cold and plunge into a pool at Watermark Brewing Company. Awards and an After Splash Bash party will begin immediately following the last plunger. Everyone is welcome to attend, and enjoy food, drinks, raffles, and music.
The annual Michigan Law Enforcement Torch Run Polar Plunge is the largest fundraiser for Special Olympics Michigan, raising over $1 million dollars each year.
30 Polar Plunges are scheduled to take place across Michigan this winter, and you can find a complete list of plunges online at PlungeMI.com.
Special Olympics Michigan Inc. provides year-round sports training and athletic competition for 27,745 participants (children and adults with intellectual disabilities as well as Unified Partners and students). Athletes build physical fitness, develop self-confidence and prepare for participation in society.
They are a non-profit organization supported almost entirely by corporate and individual gifts and events. The generosity of Michigan organizations, individuals and statewide businesses enable the program to continue.
The photo accompanying this story on Moody on the Market is courtesy of Watermark Brewing.