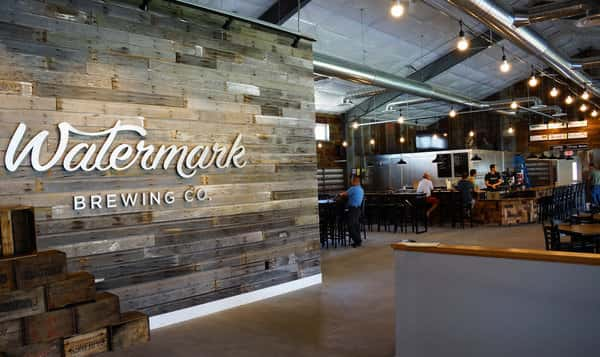 The stage has been set, the massive walk-in cooler now sports flowing taps, the decor is first class, the tables are set, the bar is shined, the lights are on, the sign is up and for three laser-focused partners — it's showtime. Watermark Brewing Company of downtown Stevensville will raise the gate on their beautiful new taproom and beer garden and begin welcoming thirsty craft beer fans on Monday, July 18th.
Chris Mason, Justin Schaul and David Cockell are ready to take center stage in the middle of Craft Beer Month and show what their hard work over the past year has produced. Be ready to be impressed on all fronts.
The trio of buddies all quit their jobs at the end of 2015 to take up the task of crafting the latest stop on the Southwest Michigan Craft Brewing Trail, and they've done a remarkable job ever since.
The 5,250-square foot building, housing the brewhouse, taproom, rest rooms and a massive 20-by-17 foot walk-in cooler blend seamlessly into a first-class experience utilizing a slick urban feel utilizing reclaimed barn wood and rusting corrugated aluminum panels that create a great welcoming feel. All of the materials came from the tear down of a couple of old barns provided by friends. The patio beer garden puts another 1900-square feet under roof.
Arriving guests are greeted with a massive Watermark logo on the entry wall which is backed by reclaimed wood from a former chicken coop. Stacked wooden crates accent the corner topped by a brass diver's bell-helmet opposite the greeter's stand. From there it's a wide open space with a massive, rough-hewn, cherry-wood bar top that runs more than 52-feet in two sections. The high-gloss, furniture quality finish on the bar top, made with the help of Lakeshore Stair Company, makes for a very rich feel. The tap wall pulls craft beers directly from the icy cooler. The bar front and garage door bay walls are accented by a hand-crafted mosaic of multi-hued sections of two-by-fours.
Pendant lamps hang from the ceiling and strings of Edison-style filament bulbs run the length and breadth of the taproom as well as under the canopy of the beer garden patio out front which can be accessed from the front walkway, from doors at each end of the taproom, or from virtually anywhere else in the house when the four, floor-to-ceiling garage-bay doors are raised for a full open air feel. All the oak table tops were also created with the help of Lakeshore Stair using a steel wool and vinegar finish
Chris Mason says they will launch on Monday with 7 of Brewmaster David Cockell's beers on tap, and a couple more will be added each week until they have an average of 10 to 16 beers at a time, always rotating and always innovating with new recipes from the mind of Dave. One such new entry was being brewed this afternoon. Murky Depths will be a dark, foggy IPA when it's ready to take a bow and hit the tap wall.
Watermark brews can only be purchased at the brewery on St. Joseph Avenue directly across the street from the Stevensville Village Hall. They have no outside distribution plans in the works at this time. You can, however purchase 32-ounce "crowlers," of their beers canned right before your eyes after being pulled from the tap. While they don't have their own "growlers," you can have your own filled with your favorite Watermark brew by bringing it in.
The Watermark taproom is capable of handling 95 people, with space for another 150 in the patio beer garden. While no food will be served by the new brewery, guests are welcoming to order food from local restaurants and bring it in or have it delivered, and Justin's brother Joe Schaul will be offering up custom created sandwiches every Friday with three styles offered each week from his Dankie's Sandwich Station. He offered up samples of an amazing artisan grilled cheese to invited guests who got a sneak peek this afternoon. Additionally, two 30-by-30-foot concrete pad bays alongside the taproom have been created for regular placement of food trucks who will bring additional food options to patrons.
In deep gratitude to the Stevensville Village Council who were instrumental in helping get Watermark up and running, the brewery hosted a thank you party Tuesday night. The council sold the trio the property for the new brewery, approved tax abatements, and helped expedite liquor licensing and other regulatory issues along the way. Mason said today, "We wouldn't even be here talking today if it weren't for the overwhelming support of the village council." Both he and the council think that the new brewery will play a key role in attracting additional traffic and potentially even other new business ventures to the community's central business district.
Watermark will open to the general public on Monday and be open from 3pm until 11pm Monday through Thursday, from 11am until midnight on Fridays and Saturdays and from noon until 9pm on Sundays. Hopes are to have live music for the taproom and beer garden occasionally. In addition to their craft beers and water, Watermark will feature both hot and cold coffees from Madcap Coffee out of Grand Rapids.
As Chris, Justin and David get ready to take a bow, make plans to join them at 3pm on Monday. If you're not already a member of their Mug Club, however, you'll have to join the waiting list to be added next year…as the 200-member club is currently fully subscribed.
The current beer list is always displayed on the wall…
Team Watermark: (l to r) Chris Mason, David Cockell and Justin Schaul
The Watermark covered patio…