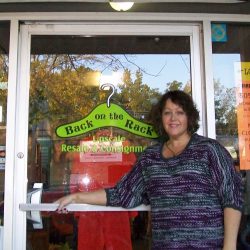 A proud Watervliet shop owner in business for more than five years now had just begun her semi-annual "Everything's on Sale" Sale when the world came crashing down around her. After considerable debate with her landlord over repairs on the building and a notice to vacate the building in 30-days, she now finds herself less than 10-days away from being tossed into the street and her business reduced to a shambles.
Jennifer Moore has owned and operated Back on the Rack — Upscale Resale, Consignment & Tuxedo Rental in downtown Watervliet for over five years and while she's had issues with lack of performance on building issues with her landlord, she's always battled through and survived. Now…she's in the race of her life.
This morning she rolled out a lengthy plea for help on her business Facebook page as she struggles mightily to find a new place to conduct business, because even her court appeal for more time to find an alternative has apparently been rejected and she's being thrown out in 10-days.
Here's what she had to say, including what will happen immediately, what she hopes to see happen, and her urgent appeal for anyone with 3,000 square feet of reasonably priced lease space to allow her to continue the business:
Hi Everyone, this is not going to be an easy post for me to write. Please read to the end. I want to let you know about a situation that is happening with the store right now.
My landlord decided he wanted his space back, so he had his attorney send me a notice to "vacate in 30 days or your landlord can take you to court to evict you." Although a landlord can evict a tenant for any reason, at any time, I felt like this was a very unreasonable time frame to vacate, especially since he stated no reason as to why he wanted to evict.
My belief is that after complaining about the leaking ceilings and leaking windows for so long, and asking him to fix the problems, it was easier and less expense for him to have me leave the building. He told me on 2 different occasions that he had no intention of doing anything to fix the building, so the other problems that I was able to fix myself – I did.
Therefore, I decided to go to court so that I could explain this situation and ask for at least 60 days to get everything out and to get the word out that I was moving. Well, unfortunately, while it made perfect sense to me, the law sees if differently. I went to court Friday (yesterday) morning, and I now have 10 days to vacate. 
Turns out, it makes no difference that the store has been in business for over 5 years, that it offers a service to our community, that it is my only income, or that this will cause me a huge financial hardship. The landlord has the right to demand possession of the building. But wouldn't it have been nice to be given much more notice after renting there for over 5 years?
Sooo…I am still a little numb and can't quite think straight. Ten days to move, and unfortunately no place to move to. YET. I am definitely planning to reopen but I don't know exactly where that will be. There are no options that I am aware of in Watervliet. The now vacant Bob's Hobby Shop building would be a great size and location, however, it would need major renovation. The old Rookies building on Red Arrow Hwy. is for sale, but $250,000 is a little out of my price range. Ok, more like a LOT out of my price range. And they don't want to lease it. So where is there an affordable space that is at least 3,000 square feet? If you know the answer, please let me know.
If you would like to help out in some way over the next 10 days – packing, stacking, hauling, etc., please let me know that as well. This will be a huge undertaking and I can't do it alone. Yes, that's me…. independent, hard-headed Jen asking for help. That was not easy for me as I'm sure is true for a lot of you as well. Why do we put ourselves through so much and try to do so much on our own when there are so many people in our lives who would love the opportunity to lighten our burdens? I don't know the answer to that one either. What I do know is that I love "BACK on the RACK." I love my customers, many of whom have become my friends.
It has been a great experience serving Watervliet and the surrounding communities. I love the idea of resale, recycling, re-using, reducing, and repurposing. I love when people tell me how glad they are that my store is here, that they love how nice the store is, and that I "saved them once again" by having that hard to find item they needed, or that finding it here meant they didn't have to drive to Benton Harbor to search for it. 
Another thing I know is that I'm an overcomer. I have overcome many obstacles in my life, and this will be no different. I just need to tell myself "everything's gonna be alright" about 30 times a day! I truly believe that God led me to this business and that He will help me through this.
ALL THAT BEING SAID…I really don't want to pack and haul EVERYTHING in the store, so in addition to the current sale going on, I will now be offering some major discounts on much of the inventory. Please try to make it in sometime over the next few days. With only having 10 days to move, we will be packing things up starting today. I will keep you up to date on any progress made on finding a new location. Thank you so much for reading this, and please know that I appreciate each and every one of you.
Real estate people, building owners, bargain-hunters, friends of Jennifer Moore. Here's your chance. You can reach her by email at this address: backontherack@yahoo.com.
The store is located at 361 North Main Street in downtown Watervliet.