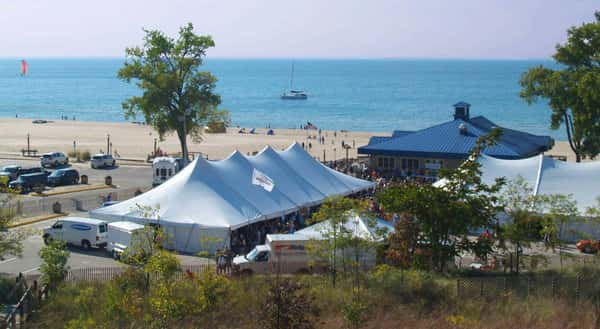 Occasionally you will find dads accompanying trick-or-treaters jokingly taking along a shot glass to trick-or-treat for themselves in their neighborhoods. If that fantasy is one you'd kinda, sorta like to live out, then my friends at the 7th Annual Weko Beach Brew Festival on Saturday, October 29th cordially invite you to join them on the shores of Lake Michigan for exactly that sort of fun. You can even wear a costume if you'd like.
This year's version of the Weko Beach Brew Fest is themed as Brews for Boos, and your $25 ticket can be purchased online at the link below, or at either the Bridgman Hardings or any of the participating breweries if you do so by October 28th. The other option is to pay at the door, but that cost escalates to $35. Ticket price includes 15 tasting tickets which you may use to sample from more than 80 hand-crafted beers from 23 of Michigan's finest breweries right there at Weko Beach in Bridgman.
The big event runs from 1pm until 7pm on the 29th and is presented by the Southwestern Michigan Tourist Council and the Greater Bridgman Area Chamber of Commerce and Growth Alliance. The breweries on hand for this year's festival include the following:

Arcadia Ales
Arclight Brewing
B. Nektar
Black Dragon Meadery
Crane Brewing
Cultivate Brewing Company
Final Gravity
Haymarket Brewery
Mountain Town Brewing
North Pier Brewing Company
Railtown Brewing Company
Rochester Mills Beer Company
Round Barn Brewery
Saugatuck Brewing Company
Schmohz Brewing
Shorts Brewing
Silver Harbor Brewing Company
Sister Lakes Brewing Company
Tapistry Brewing
The Livery
Brewery Terra Firma
Transient Artisan Ales
Watermark Brewing Company
Live music will take to the stage with Janet Hines-Norris at 1pm, Jared Knox and The Hagar Bombs at 3pm and Top Secret at 5pm. Food is available from Classic Catering and Lake Street Eats, and new this year for the first time ever, no need to miss a single play in the Michigan-Michigan State football game being showcased in the Rent-A-Center Sports Tent.
Additional sponsors for this year's event include Siemans In Bridgman, Classic Communications/Clear Vision Media of Niles, Republic Services, Wightman & Associates and Mid-West Family Broadcasting's Y-Country Radio and WIRX.
Event organizers are appreciative to Shuler Farms of Baroda who donated straw bales for extra seating in a Halloween atmosphere, and Classic Communications/Clear Vision Media who will be utilizing a drone camera to create a video of the festival.
Here's the link to order tickets online right now: