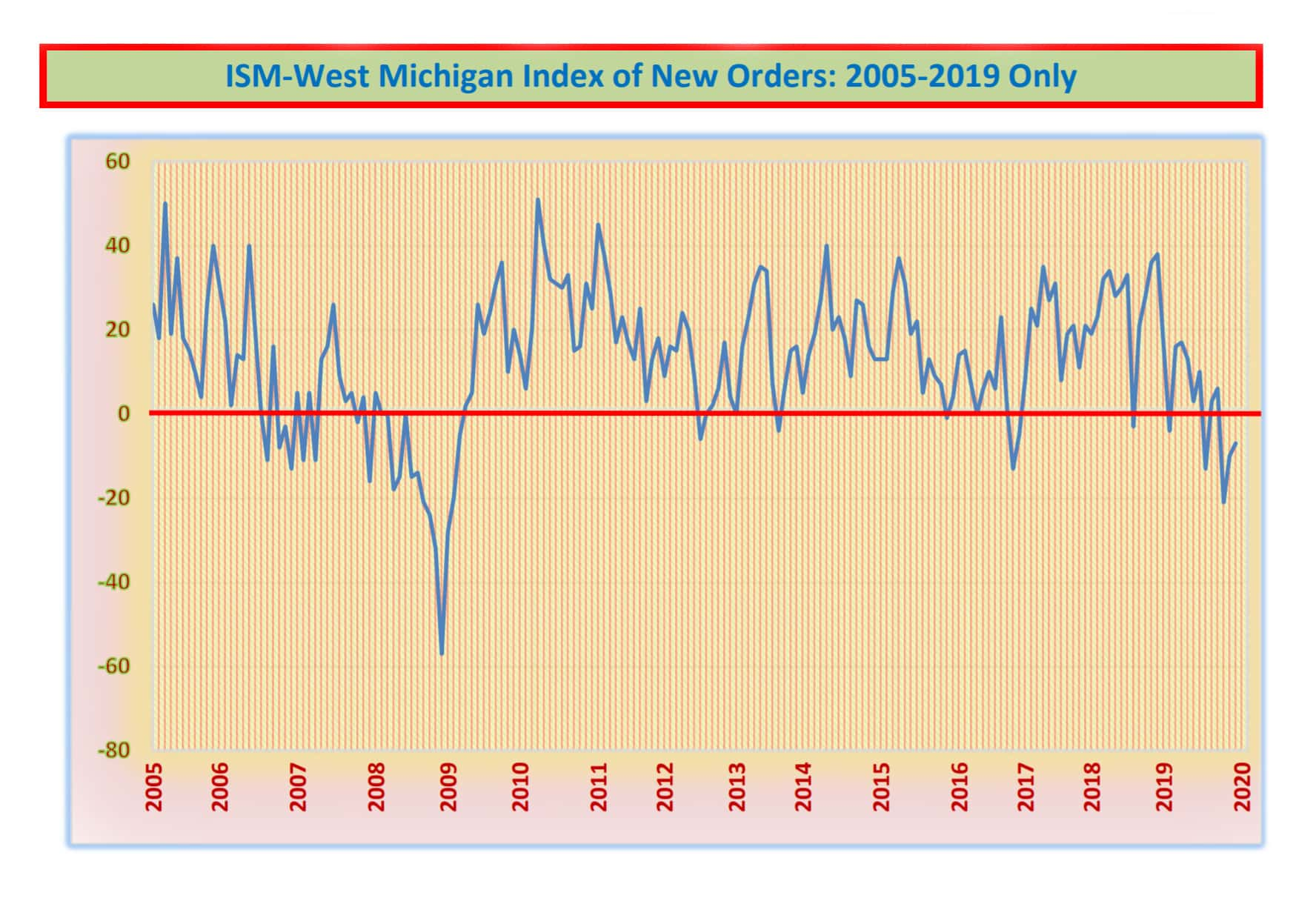 The man who most closely tracks the West Michigan Industrial Economy on a monthly basis with his survey of manufacturers and suppliers in the region says that 2019 ended on a slightly negative turn, but are still on the recovery run from the depths of the GM Strike last fall.
Dr. Brian Long, Director of Supply Management Research at Grand Valley State University says, "Although the West Michigan industrial economy remains marginally soft, the statistics continue to recover from the depths of the GM strike." He notes his New Orders Index edged up to -7 from November's -9 and October's much weaker -21 reading.
In a similar move, the December Production Index rose to -7 from November's -9 and October's anemic -34. However, the December Purchasing Index remained double-digit negative at -17, only marginally better than November's -18. Professor Long says, "Comments from this month's participants are still mixed, although the number of firms expecting somewhat slower business conditions in 2020 increased considerably in December. Some firms are still strong, others are holding their own, but one reported the first layoff this survey has declared in almost ten years."
Turning his attention to the critical automotive sector, Long says, "If and when West Michigan falls victim to another recession, it will be our automotive parts producers that will be first to decline. Fortunately, auto sales for the U.S. ended the year on a fairly positive note." For the Detroit Three, annual sales for all of 2019, declined by 3.5-percent at Ford, 1.4-percent at Fiat-Chrysler, and 2.3-percent at General Motors. For the other major nameplates, annual sales at Honda gained a scant 0.30-percent, Hyundai-Kia was up 4.6-percent, BMW added 4.4-percent, and beleaguered Volkswagen improved by 2.4-percent. On the down side, Toyota finished 2019 with a loss of 1.8-percent, while the Nissan Group finished the year with a sharp loss of 9.9-percent.
Most forecasters are modestly positive about the prospects for the auto industry in 2020. According to Jeremy Acevedo, senior manager of industry insights at Edmunds: "When there's been such a long streak of strong sales, it's natural to wonder when the other shoe will drop, but we don't see that happening anytime soon. Financing conditions are already looking much better than they did at the start of 2019, unemployment is at an all-time low, uncertainties around tariffs seem to be somewhat alleviated thanks to the new USMCA agreement, and we're about to head into an election year, which historically yields stronger sales. Automakers have many reasons to be optimistic heading into the new year."
Long's report shows that even though the world economy continues to slow, the December J.P. Morgan international Pricing index edged up to 51.3 from 50.4. Historically, moderately rising prices tend to indicate that no recession is pending. Locally, the West Michigan Pricing Index recovered to -6 from -18.
West Michigan's Short-Term Business Outlook for December, which asks local firms about the perception for the next three to six months, retreated to +0 from +11. The Long-Term Business Outlook Index, which queries the perception for the next three to five years, eased modestly to +33 from +35.
Professor Long says, "As the details from the apparent progress in the trade talks with China leak out, the business community remains lukewarm. Some of the tariffs on imported materials may be reduced or eliminated, which will help with the reduction in the purchase price for some commodities and materials. The main beneficiaries on the selling side will be the producers of farm commodities." He adds, "Although there is talk of a Phase II trade agreement with China, it is doubtful that very much progress will be made before the November election."
On the domestic side, consumer confidence remains fairly strong, even though the reading from The Conference Board came in marginally lower for December. In contrast, University of Michigan's index of Consumer Sentiment edged up by 2.5 to 99.3. Both indices remain at or near their 2001 levels, and both surveys noted that the tariff wars had an almost negligible importance to domestic consumers. Lynn Franco, director of economic indicators at The Conference Board, commented: "Consumer confidence declined marginally in December, following a slight improvement in November. While consumers' assessment of current conditions improved, their expectations declined, driven primarily by a softening in their short-term outlook regarding jobs and financial prospects. While the economy hasn't shown signs of further weakening, there is little to suggest that growth, and in particular consumer spending, will gain momentum in early 2020."
As he wraps up his December report, Dr. Long suggests, "It sounds redundant, but there is still no evidence on the immediate horizon pointing to a recession. The formal definition of a recession is, '…two consecutive quarters of negative economic growth as measured by a country's Gross Domestic Product.' An economic slowdown, however, is usually regarded as a period of growth limited to one or two percent growth. Unlike other countries around the world, the U.S. has had few back-to-back quarters of 'slow' GDP growth. It's generally been either boom or bust, but, for 2020, the possibility remains that we could have a period of growth limited to one or two-percent. However, with the advent of a major geopolitical war or terrorist event, all bets are off."
As is Dr. Long's practice, he shares a series of verbatim anecdotal comments from participants in the survey in an anonymous format to give the reader a better feel for the thoughts behind the ratings. Here are some of those comments he has shared for December:
"Pricing has either stayed the same or has gone up a little bit. Sadly, nothing on the decline as of now."
"There is some heavy discounting in the machine tool market. Many competitors are 'buying' business with special discounts."
"With the end of the year coming a lot of business has slowed down and waiting to ramp back up in the new year."
"We're seeing our normal seasonal slowdown, and expect rebound next month."
"Business is very slow."
"We're ending the year sort of flat without the typical Q4 uptick in business volume."
"We had a light start to December orders, but things are picking up."
"Although automotive is lower than prior year, it is still very strong and stable. We now focus on expense reduction and getting new customers. Part sales are paramount, and we are winning many new jobs that will really hit in 2021 and 2022."
"We are still doing well."
"I am starting to see a lot of price increases on supplies along with a lag in delivery."
"Overall, it has been a really good year."
"November started well, but as usual in Michigan, once deer season started, it was pretty quiet. December started slow and hasn't picked up."
"A slowdown looks inevitable for next quarter. We will be watching inventories closely and scaling back overtime."
"We've seen a little softening in sales, but we're still optimistic for long term growth."
"We continue to see a softening in our business."
"We are glad that GM is back and running! Our plants are now trying to catch up!"
"Quoting is still doing well, but PO's are still slow in coming right now."
"We were extremely overstaffed, and had to let go of 37 employees at the end of November."
By clicking the link below you can see Professor Long's full report at any time: