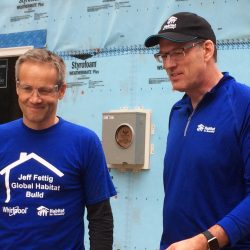 During his 13 year tenure as Chief Executive Officer of Whirlpool Corporation, Jeff Fettig established an exemplary standard of giving back to the community in countless ways. Last fall, Whirlpool Corporation, already a major donor to Habitat for Humanity International, announced plans to honor Fettig's incredible legacy by pressing into action a team of corporate volunteers to build 14 homes in eight countries.
Now, the Benton Harbor-based appliance giant is celebrating the conclusion of that first-ever Global Habitat Build Project — a project which engaged more than 200 Whirlpool Corporation employee volunteers in 14 Habitat for Humanity home build projects around the world. The project was coordinated to not only recognize the many contributions of Jeff Fettig, who stepped down as CEO on October 31st, but to also celebrate the 17-year partnership between Habitat for Humanity International and Whirlpool Corporation.
As Jeff Noel, Corporate Vice President of Communications & Public Affairs for Whirlpool, says, "What better way to recognize the standard of giving back set by our Chairman and former CEO, Jeff Fettig, than to collectively build homes around the world in his honor." Noel adds, "At the same time, we're celebrating our long-standing relationship with Habitat for Humanity. Jonathan Reckford, CEO of Habitat for Humanity International, gave his time to hammer nails alongside our employees, honoring our collaborative work building homes and positively impacting society for nearly two decades."
Throughout the fall of 2017, Whirlpool Corporation's Global Habitat Build Project included home builds in the following cities:
New Delhi
Pondicherry, India
Hong Kong
Shanghai
Guangzhou, China
Warsaw, Poland
Sao Paulo
Bogotá, Colombia
Buenos Aires, Argentina
Monterrey, Mexico
Bloomington, Indiana
Marion, Ohio
Benton Harbor, Michigan
Since 1999, Whirlpool Corporation's partnership with Habitat for Humanity International has supported the organization's work through product donations, financial contributions, and volunteerism on the part of Whirlpool Corporation employees.
In more than 17 years of partnership with Habitat for Humanity, Whirlpool Corporation has:
Developed active programs in more than 45 countries
Committed more than $101 million in funding
Helped improve the lives of more than 100,000 families around the world through new construction or home repair projects
Engaged more than 8,000 Whirlpool Corporation employees in volunteer efforts
Donated more than 184,000 ranges and refrigerators to new Habitat homes in the United States and Canada
Sponsored more than 175 homes around the world
Donated appliance products to nearly 76,000 Habitat families in Europe, the Middle East, and Africa
Donated more than 46,000 appliances to Habitat Humanity ReStore retail outlets
More information on Whirlpool Corporation's work with Habitat for Humanity is available here.
Whirlpool Corporation remains the number one major appliance manufacturer in the world, with approximately $21 billion in annual sales, 93,000 employees and 70 manufacturing and technology research centers in 2016.
Shown at a Fettig Habitat build site in the photo accompanying this story on Moody on the Market.com are (l) Whirlpool CEO Marc Bitzer and (r) Habitat for Humanity International CEO Jonathan Reckford.