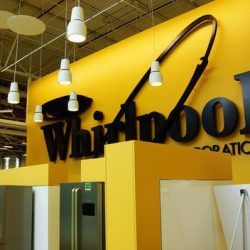 When fire raced through a London high rise in the middle of the night last June killing 71 people, authorities pointed to a Whirlpool-owned brand, Hotpoint, as the suspected villain in that tragedy. Now, however, following months of intense technical testing dictated by British investigators, the company has essentially been cleared in the case and no recall will be initiated.
Whirlpool had acquired Hotpoint after the model in question in the deadly blaze had been placed on the market, nevertheless company officials have cooperated with the lengthy testing process to help clear the corporate name.
Reuters reported today that the Hotpoint FF175BP refrigerator/freezer which was initially thought to have been the ignition point for the fire at Grenfell Tower "has been declared safe after technical investigations ordered by British authorities."
Whirlpool's Jeff Noel said in a statement, "We wish to reassure consumers that these models are safe and that people may continue to use them as normal."
The 24 story Grenfell Tower was engulfed quickly in the summertime blaze, but following extensive testing,  Britain's business ministry said those tests determined that the appliances originally manufactured between 2006 and 2009 were considered safe and no recall would be necessary.
Meanwhile, the cause of that tragedy continues to be investigated and a series of public hearings is slated to get underway next month, side-by-side with a separate police investigation already initiated.