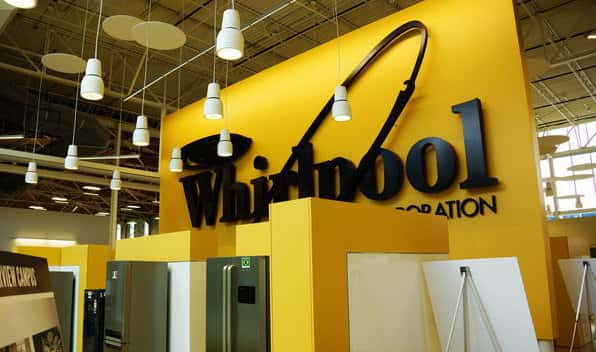 While early Friday markets are down across the board, Whirlpool Corporation stock continues to be impacted by a World Trade Organization ruling at mid-week that trimmed more than 4-percent off the stock price yesterday alone. The Benton Harbor-based appliance giant's stock is down nearly 3.5-percent more in early trading today thanks to the WTO ruling that reverses some of the anti-dumping gains made earlier this year. Whirlpool's stock price was down more than $5.50 per share shortly after 10am this morning, adding to the more than $7.50 per share loss at Thursday's close.
Reuters and other financial reports contend that the World Trade Organization's action "puts U.S. anti-subsidy duties on Korean-made washing machines in jeopardy."
South Korea comes away with the biggest win following their appeal of U.S. Commerce Department anti-subsidy duties ranging up to 82-percent on washers made by Whirlpool competitors including Samsung, LG Electronics and Daewoo.
The WTO Appellate Body action is final, and reverses portions of the earlier ruling that had gone in favor of not only Whirlpool, but all U.S. manufacturers.
In their ruling the WTO contends that several wrong decisions were made regarding methods used in determining the anti-subsidy duties in Washington. Whirlpool and others have long complained by "dumping" of foreign products into U.S. markets, undercutting competition.
The ruling means that the U.S. will have to align their rules going forward with the judgment released Wednesday, and that could result in new anti-subsidy calculations.
Whirlpool's told Reuters that the ruling "would have no direct or immediate effect on the 2013 antidumping and countervailing duty orders on clothes washers from South Korea." Indications are that the formal response by the U.S. Department of Commerce could take some time.