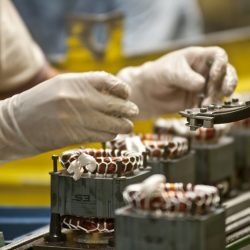 Late last November nearly the entire workforce at an Embraco compressor plant in Turin, Italy went on strike, manning the picket lines, demanding action be taken to save the very jobs they were walking out on. At that point the handwriting was already on the wall, and this week the final blow came when Whirlpool Corporation, which had acquired a majority stake in the manufacturing company 20 years ago, announced the end for that facility.
According to several financial trade accounts Whirlpool reported this past week that they will cease operations at Embraco's Riva Presso Cheiri plant in Turin in 2018, and will cut some 500 jobs as a result. The Benton Harbor-based appliance giant also revealed that it will incur roughly $80-million in charges as a result of the restructuring of that business. Plans are to concentrate compressor assembly elsewhere in the Embraco system.
It was in 1997 that Whirlpool had acquired a majority stake in Embraco, a Brazilian global leader in the manufacture of compressors for refrigeration.
One Italian newspaper reported that Embraco management had authorized the restructuring plans in action taken on January 4th.
One source broke down the anticipated charges saying that approximately $50-million would derive from employee-related costs, another $25-million in "asset impairment" costs, and the balance of some $5-million in "other associated costs" connected to the actions being taken.