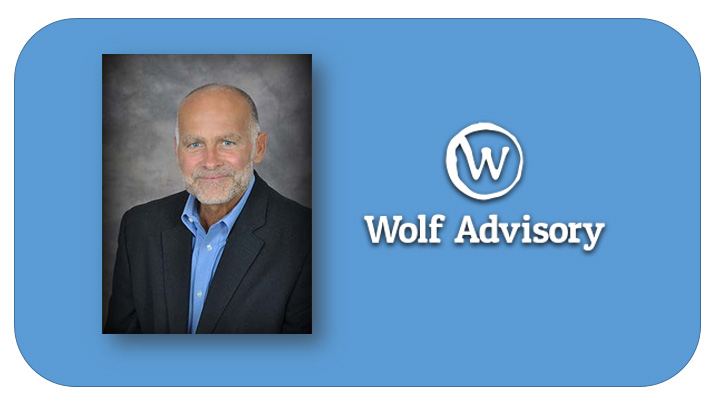 When Jim Koenig, Sr. retired last June after 33 years with Whirlpool Corporation, leaving the company where his last role was Vice President and General Manager of National Accounts, the last thing he wanted to do was sit around the house.
Koenig has a passion for financial planning and had long planned on a second career as a Financial Advisor. Now, he is living that dream, having joined the St. Joseph team of Wolf Advisory Services, anchored in the central business district of St. Joe, where he is the new Executive Vice President and Senior Advisor on the team.
Jim spent a lot of years developing and executing his own Whirlpool retirement plan and now wants to give back to others in the community by helping them to establish and execute plans of their own. He offers prospective clients a complimentary, no obligation meeting to discuss their retirement readiness, and work toward the best approach for each individual client.
Jim follows a very disciplined planning process that starts with listening intently to each client before constructing robust and personalized plans that can adapt as the client's life unfolds and their needs change,, always focused on the target of helping them to achieve financial well-being.
Before joining Whirlpool and relocating to the Michigan's Great Southwest back in 1987, Jim grew up in mid-Michigan, and attended Michigan State University where he earned his bachelor's degree in Psychology and his MBA in Marketing. Jim has been married to his wife Susan for the last 29 years and they have five children.
Wolf Advisory is a full-service, comprehensive, Financial Planning, Tax, and Insurance Firm servicing clients throughout Southwest Michigan. They focus on delivering clients a truly holistic perspective and aim to "exceed everyone's expectations by providing an undeniably unique service experience."
You can reach Jim Koenig at Wolf Advisory by phone at (269) 982-1988 or by email at this link: jkoenig@wolfadvisoryservices.com.
The St. Joseph office of Wolf Advisory is located in Suite #4 at 728 Pleasant Street in downtown St. Joseph.