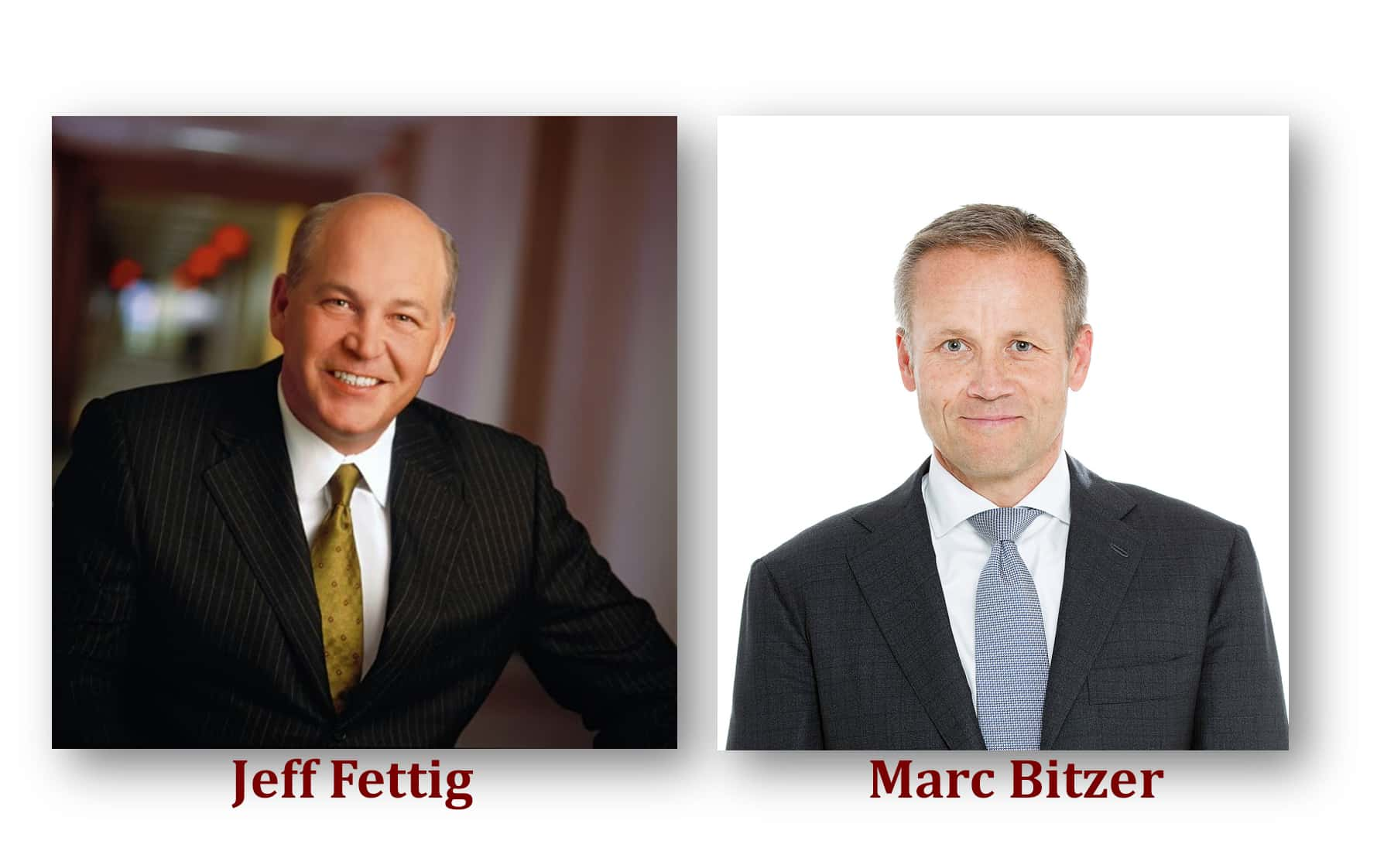 A transition that began nearly a year and a half ago will become complete at the end of the month when Whirlpool Corporation Chairman Jeff M. Fettig officially retires from the company after nearly 40 years of service.
Fettig, who turned over the role of Chief Executive Officer of the appliance giant in June of 2017, announced today that he will fully retire from his last remaining role as Chairman of the Board on December 31st after 38 years with the company, with the Board of Directors electing CEO Marc Bitzer to succeed Fettig as Chairman of the Board effective January 1, 2019.
Fettig says, "My planned retirement is the final step in our board-driven succession plan with Marc now adding the Chairman role to his responsibilities." He adds, "It has been a great honor for me to be part of Whirlpool Corporation over the last 38 years. During this time, the company has changed significantly in a positive way. I am very proud of what the people of Whirlpool have achieved to make us the great company we are today."
Fettig also notes, "I've also had the privilege to lead our company and serve as Chairman of the Board of Directors for the last 14 years. I greatly appreciate the dedicated support that our Board of Directors provides to our company."
Samuel R. Allen, Whirlpool Corporation's presiding director, said, "Speaking on behalf of all board members, it has been a pleasure and an honor serving with Jeff on the Whirlpool Board. We are extremely proud of Jeff's accomplishments, both in terms of the company's strong performance and in his demonstrated commitment to leading with integrity." Allen concluded, "In selecting Marc Bitzer, the Board is confident we have chosen a leader that will continue this commitment."
Fettig is credited with the successful growth of the company both organically and through strategic acquisitions that increased sales by 75 percent — from $12 billion in 2003 to $21 billion in 2016. The company's acquisition of Maytag Corporation in 2006 and of Indesit Co. SpA in 2014 added the prestigious brands of Jenn-Air, Maytag, Amana and Indesit creating an industry-leading portfolio that targets more than 90% of global consumers with seven brands garnering more than $1 billion in annual sales. Whirlpool's market value during Fettig's tenure increased from $5 billion to more than $14 billion, and the company's annual dividend increased from $1.36 per share to $4.40 per share.
Fettig joined Whirlpool in 1981 as an Operations Associate. He held a number of managerial positions in operations, sales, planning and product development before being promoted to Vice President of Marketing for the KitchenAid appliance group in July 1989.  In October 1990, he was named Vice President of Marketing for the Phillips Whirlpool Appliance Group of Whirlpool Europe BV, the company's European subsidiary. He was named Vice President of Group Marketing and Sales for the company's North America Appliance group in October 1992.  In 1994, he was named an Executive Vice President of Whirlpool Corporation and President of Whirlpool Europe and Asia.
Fettig served as President and Chief Operating Officer and was first elected to the Whirlpool Board of Directors in June 1999.  He became Whirlpool Corporation's Chairman and Chief Executive Officer in July 2004.
A native of Tipton, Indiana, Fettig holds a Bachelor's degree in finance and an MBA from Indiana University.
Fettig serves as the lead director of the Dow Chemical Board of Directors and is a member of the Board of Directors for the Kohler Company.  He serves on the Board of Directors of the Indiana University Foundation and on the Board of Governors for Boys and Girls Clubs of America.  He also is a member of the Business Leaders for Michigan and the Business Roundtable.
Here's a link to the original story when Fettig announced his retirement as CEO, but stayed on as Chairman as reported on Moody on the Market on June 20th, 2017:
https://www.moodyonthemarket.com/fettig-steps-down-as-whirlpool-ceo-remains-chairman/
Whirlpool Corporation, headquartered in Benton Harbor, is the number one major appliance manufacturer in the world, with approximately $21 billion in annual sales, 92,000 employees and 70 manufacturing and technology research centers in 2017. The company markets Whirlpool, KitchenAid, Maytag, Consul, Brastemp, Amana, Bauknecht, Jenn-Air, Indesit and other major brand names in nearly every country throughout the world. Additional information about the company can be found at WhirlpoolCorp.com, or find them on Twitter at @WhirlpoolCorp.