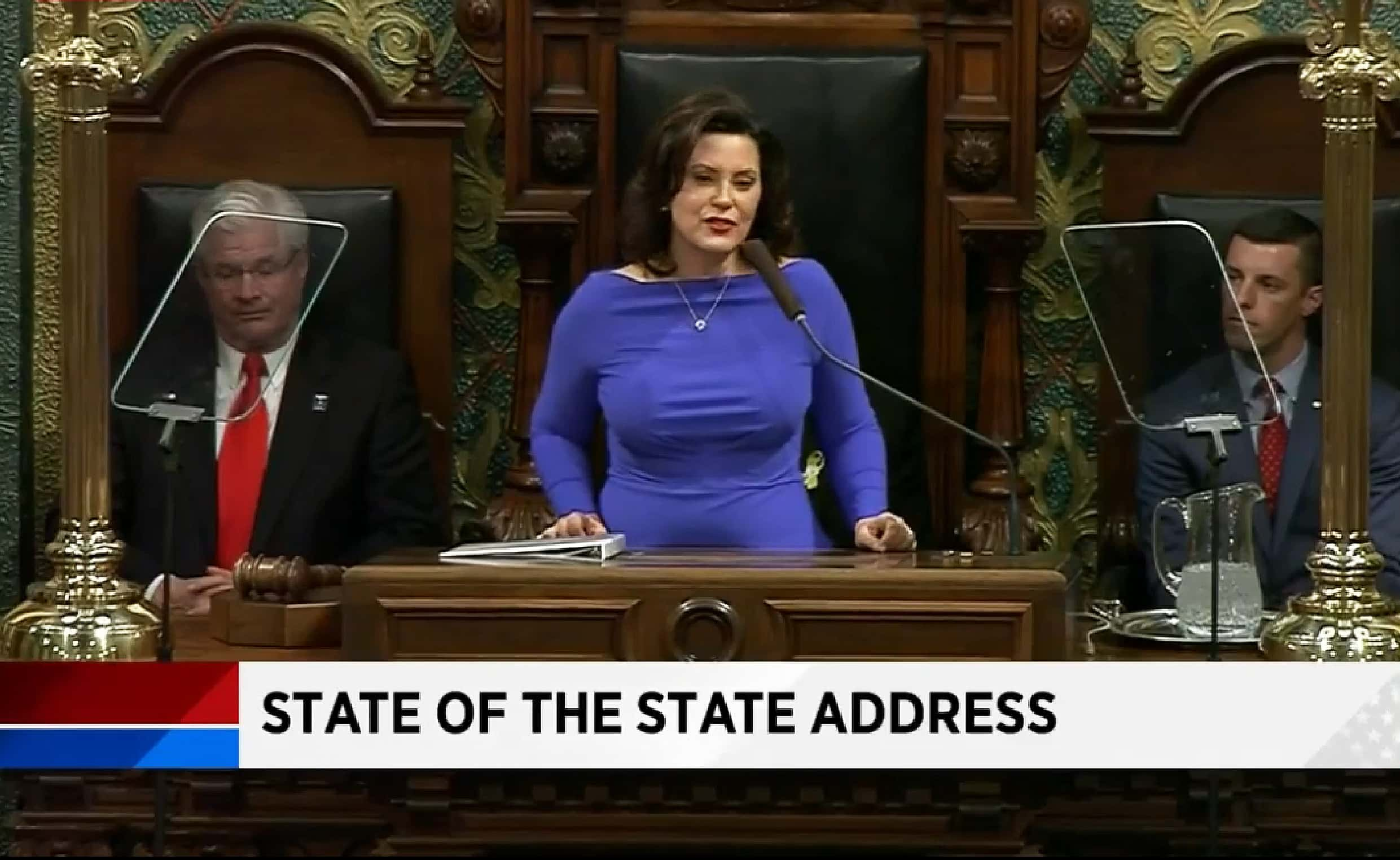 New Michigan Governor Gretchen Whitmer took to the podium in the Michigan House of Representatives tonight to deliver her first ever State of the State address. She imparted a decidedly bipartisan message calling for cooperation but also cautioning against what she called the passage of "phony fixes."
Here is where you can find the transcript of her entire address:
As one might expect, there were reactions from multiple quarters. Here is a composite of a number of those responses:
State Representative Pauline Wendzel
State Representative Pauline Wendzel said that Michiganders deserve a firm plan to fix our state's roadways and to bring down the astronomical cost of car insurance rates.
Wendzel contends, "For far too long, our highways, roads, and bridges have been neglected," and adds, "Our roads lay the groundwork for a vibrant economy, and delaying the necessary work to bring our infrastructure up to par makes conditions worse and raises costs. After an entire campaign season full of rhetoric about 'fixing the damn roads,' it's time for action.
Rep. Wendzel also noted the need to overhaul the state's car insurance system, arguing, "It's unacceptable that the citizens of Michigan – the automotive capital of the world - pay twice as much for car insurance as our neighboring states.  For years, special interest groups have stood in the way of meaningful reform. It's time to work together and solve this problem once and for all. I look forward to delivering a solution that reduces rates for all Michiganders."
Rep. Wenzel also spoke about the state's historic comeback after the lost decade, saying, "Michigan's economy has made incredible progress over the last eight years.  More than 500,000 private sector jobs have been created under Gov. Snyder and the Republican-led legislature.  However, there is still more work that needs to be done to continue our comeback.  Now is not the time to change course because what we have been doing is working."
State Senator Kim LaSata
Sen. Kim LaSata of Bainbridge Township, issued the following statement following Gov. Gretchen Whitmer's 2019 State of the State address on Tuesday night:
"Tonight, the governor highlighted her priorities and challenges that we face as a state. I am glad that she has identified key issues that I have been working on and am hopeful that the Legislature and her administration will be able to work together to find common solutions to these shared goals.
We must find a sensible and long-term solution to fixing our roads and bridges that respects taxpayers. Michigan drivers pay the highest auto insurance premiums in the nation, and we need to enact reasonable reforms that will provide financial relief to Southwest Michigan families by lowering insurance rates. Education will always be a priority of mine, and I am committed to continuing to invest in our children's futures by building on the record level of funding we budgeted for K-12 last year.
Lastly, our state's economy has experienced remarkable growth over the past eight years, and we need to continue that momentum by pursuing policies that make our state a place where families want to live, businesses want to operate, and talented workers want to find a job.
I am excited for this opportunity and look forward to what we can accomplish together."
LaSata welcomed two guests: Southwestern Michigan College President Dr. David Mathews and President and Chief Operating Officer of the Edward Lowe Foundation Dan Wyant, who joined her in the House of Representatives chambers for the Governor's speech.
State Senator Aric Nesbitt from Lawton
State Sen. Aric Nesbitt from Lawton, issued the following statement on Tuesday, in response to Gov. Gretchen Whitmer's 2019 State of the State address:
"I am happy to see the governor discuss Michigan's success in recent years.
Michigan is stronger because in recent years we expanded freedom and opportunity, eliminated burdensome regulations, lowered taxes and paid down our state's debt.
We can continue moving Michigan forward by working together to lower auto insurance rates, fix roads and continue paying down debt.
I will continue to stand strong for our West Michigan values, and hopefully the governor is willing to solve challenges in a way that protects Michigan's hardworking taxpayers."
State Senator Brandt Iden from Oshtemo
State Rep. Brandt Iden – chair of the influential Michigan House Ways and Means Committee – tonight said workforce and talent development is the key to continued success for the state and the Portage/Kalamazoo region.
Iden says, "We have a great opportunity to build on our recent comeback and move Michigan forward into the new decade." He was joined by Portage Mayor Patricia Randall for Gov. Gretchen Whitmer's State of the State address at the Michigan Capitol, and adds, "Investing in talent development is an investment in our future. We must ensure our young people and workers of all ages have the skills needed to succeed in an ever-changing economy."
Iden said he will prioritize working with the governor and Legislature to help equip students and workers with the skills needed to fill high-demand, good-paying jobs. Iden also supports policies aimed at helping job providers create new opportunities for Michigan workers, and reforming burdensome occupational licensing requirements to allow those re-entering the workforce -- including those rehabilitated after serving prison time – to better provide for themselves and their families.
Iden noted Michigan's unemployment rate has dropped from 14.6-percent in mid-2009 to about 4-percent entering 2019, and notes, "The recent job growth experienced with many of Portage's key employers shows we're headed in the right direction," adding, "Now it's time to take the next step forward and continue the comeback with positive policy important to residents of every city, village and township in Michigan."
The Michigan Works! Association
The following is a statement from Luann Dunsford, Chief Executive Officer of the Michigan Works! Association responding to Governor Whitmer's discussion of important technology and workforce issues in here State of the State speech:
"Michigan Works! is proud to be the state's workforce development partner. We look forward to partnering with Governor Whitmer to improve talent resources so our economy can continue to grow.
We were very encouraged to hear the governor call for additional job training and scholarship resources to help us further close the skills gap. We are eager to partner with her administration on these efforts so that we can connect more Michiganders with high-paying careers and meet the needs of employers around the state.
Michigan has a good deal of work to do to achieve prosperity. We look forward to partnering with Gov. Whitmer to help get started as soon as possible."
Established in 1987, the Michigan Works! Association fosters high-quality employment and training programs serving employers and workers by providing support activities and a forum for information exchange for Michigan's talent development system.
Michigan Secretary of State Jocelyn Benson
Michigan Secretary of State Jocelyn Benson issued the following statement after tonight's State of the State Address by Gov. Gretchen Whitmer:
"In her State of the State Address tonight, Gov. Gretchen Whitmer called for legislation to ban any use of mobile devices while driving. I applaud the governor for this life-saving call to action. The Department of State has long advocated for distraction-free driving with the 90,000 Michigan teens who go through our driver education program each year. Such a law would underscore that practice for all drivers. I urge our Legislature to take up the banner for this life-saving legislation."
The Small Business Association of Michigan

Following Gov. Gretchen Whitmer's State of the State address, SBAM President Brian Calley issued the following statement:
"The Small Business Association of Michigan is committed to working with Governor Whitmer to ensure that small businesses, which account for 70-percent of the employment in our state, have an environment to thrive. SBAM is ready to work with the governor to provide resources and services that will help small businesses rapidly grow. We hope to continue working with Gov. Whitmer to increase visibility for small businesses, including in the government procurement space."
The Michigan Director of the National Federation of Independent Business

Michigan's leading advocate for small business, the National Federation of Independent Business, today offered observations on Governor Gretchen Whitmer's first State of the State Address this evening.
Michigan NFIB Director Charlie Owens says, "Over the last eight years tough policy decisions were made that turned our state around and made us a great state to bring a business, grow a business, or start a business." He adds, "We are eager to work with Governor Whitmer to keep Michigan on a positive track."
The Governor announced a new "Opportunity Scholarship" to provide two years of tuition coverage at a community college or nonprofit university to boost the state's talent pool. This would be in addition to programs to help retrain adults looking for new skills in order to meet the demands for new jobs. Regarding that issue, Owens says, "Finding skilled workers is one of the biggest problems facing small business today," and adds, "We are interested in efforts to address the problem and are looking forward to more details on these programs and how they will be financed."
One of the themes that was consistent throughout the speech was the call for a bipartisan approach to solving problems. Owens said that the early move by the Attorney General to collaborate with the legislature on further reforms to Michigan's civil asset forfeiture laws was a positive move in that direction, noting, "Civil forfeiture laws allow the government to seize private property from a citizen or small business owner without ever charging them with a crime," and adds, "It is time for this unfair practice to end."
On the Governor's announcement of "leveling the playing field for small business" through an improved procurement process, Owens said that, while such improvements are welcomed, the best way to keep the playing field level for Michigan small businesses is to continue the progress made in improving the state's overall business climate, suggesting, "Michigan has taken the high ground in tax, fiscal, regulatory, and labor policy and we need to hold it."
Owens was also very enthusiastic about the Governor's commitment to resolve the state's broken no-fault auto insurance system, saying, "This is a problem that has plagued our state for far too long."
Owners concluded by saying, "We look forward to working with the Governor and we are anxious to see how her agenda aligns with our own Main Street Agenda for 2019."
The Michigan Democratic Party Chair Lavora Barnes
The Michigan Democratic Party issued the following statement today on behalf of MDP Chair Lavora Barnes in response to Governor Gretchen Whitmer's State of the State address:
"We applaud Governor Gretchen Whitmer's State of the State address tonight because it reflects her relentless focus on making life better for Michigan families by fixing the roads, improving schools, protecting drinking water, and building a stronger, healthier economy.
We especially commend Gov. Whitmer for prioritizing the need to make sure every Michigander has a path to a good-paying job. Launching the Michigan Reconnect and MI Opportunity scholarships and setting a postsecondary attainment goal are strong steps that will increase opportunity for workers and boost their wages.
We are proud of how our state's new, Democratic leadership has already hit the ground running -- and we look forward to continuing to support Gov. Whitmer's bold efforts to find common ground and take on the biggest problems facing our state." 
The Mackinac Center for Public Policy

In her first State of the State address, Gov. Gretchen Whitmer called for six expansions of government and one limitation. This is fewer proposed expansions than the average number coming from previous governors' State of the State speeches, at least since Gov. William Milliken in the 1970s.
Past governors have used their annual address to announce new programs and initiatives that they hoped to implement, many of which would require an expansion of government. The Mackinac Center for Public Policy has tallied the expansions and limitations in the State of the State addresses for the previous five governors. The tally of expansions and limitations is not meant as a comment on whether these proposed changes are positive or negative.
Michael LaFaive is Senior Director of Fiscal Policy at the Mackinac Center. He says, "The State of the State offered more perspective on Gov. Whitmer's intentions for the coming year, but the devil will be in the details." He adds, "How much will fixing everything that allegedly ails Michigan cost? To what degree, if any, will Michigan families' budgets need to shrink in order to pay for a larger state budget?"
Throughout her address, Gov. Whitmer reiterated many of her campaign promises as she laid out her policy agenda for the next four years. The following were expansions of state government proposed by Gov. Whitmer:
Calling for a law to ban using your hands to talk on a cell phone while driving.
Expanding the Elliot Larson Act, Michigan's law preventing discrimination based on age, race, sex and other areas to the LGBTQ community.
Launching the Michigan Reconnect program for "displaced workers."
Creating a "Michigan Opportunity Scholarship," which would provide two years of free tuition at a community college or similar time at a four-year, nonprofit college.
A potential rollback of Michigan's law requiring able-bodied adults receiving Medicaid to seek work, volunteer or be in school.
New agency offices of the Clean Water Public Advocate and the Environmental Justice Public Advocate.
The governor proposed the following limitation on state government:
Calling for expanding Michigan's public records act to the governor's office and the state Legislature.
The Michigan League for Public Policy
The Michigan League for Public Policy issued the following statement on Gov. Gretchen Whitmer's 2019 State of the State address, from League President and CEO Gilda Jacobs, who served in the Michigan Legislature for 12 years, including serving side-by-side with Gov. Whitmer during Whitmer's first term in the House and again in the Senate from 2006 to 2010:
"Tonight Gov. Gretchen Whitmer outlined her plan to build a better Michigan for all residents, from reducing discrimination to improving education access and economic opportunity, and improving public services through state departments both through policy change and personnel morale and structure. These plans are ambitious, but they are also vital to our future. For too long Michigan's leaders have been looking at our state through rose-colored glasses, and I think the people want and deserve some straight talk like they got tonight on where we are, how we got there and how we can turn things around.
Improving public health by addressing our water systems and other failing infrastructure, maintaining the resounding success of the Healthy Michigan Plan, investing in education and literacy improvement from preschool to college and skills training, and many of the other policy proposals discussed are spot-on, as they align closely with what we heard from residents around the state in creating our Owner's Manual for Michigan policy agenda. Like the governor, we think these issues can and should transcend party lines and political agendas, and we're looking forward to working with her and Republican leaders in the Legislature to get things done."
The Executive Director of Equality Michigan, Erin Knott

"Governor Whitmer just delivered a stirring State of the State speech that has left me ready for action.
Hardworking people are losing their jobs just because of who they are and it's happening right here in Michigan.  Many times, people seem shocked when I tell them you can be fired in Michigan for being lesbian, gay, bisexual or transgender.
In the face of this extraordinary injustice we must work to ensure a level playing field: The State House and Senate must pass LGBT workplace protections this year.
Governor Whitmer has our back and we need to have hers: Will you support Equality Michigan's robust, legislative program in Lansing right now?  Click to give $10, $50, or $150 right now.
We need to break the logjam in Lansing that has left an inclusive Elliott Larsen Civil Rights Act languishing for years.  A supermajority of Americans, including people in Michigan, have affirmed the basic idea that employees should be judged on hard work and performance, not irrelevant personal characteristics.
Nothing should matter at work except how you do your job. At Equality Michigan, our work with major corporations has shown that non-discrimination policies are good for the bottom line.
On the heels of Governor Whitmer's inspiring address, will you join me to redouble our efforts for equality?
While passage may appear to be an uphill battle, we can move the ball forward through hearings that put a personal face on the hardship workplace discrimination has caused for so many.
We must send a clear signal: There can be no excuses for inaction on vital workplace protections. Now is the time for a robust campaign.  Let's build it together.
Thank you for taking action with me."
Erin Knott, Executive Director, Equality Michigan
Michigan Freedom Fund Executive Director Tony Daunt
Michigan Freedom Fund Executive Director Tony Daunt provided the following response to Governor Gretchen Whitmer's State of the State address:
"Make no mistake – Gretchen Whitmer and the central planners in Lansing cannot build a better Michigan; local families can, and they're doing it every day.
Every new bureaucracy, or "government shortcoming" Whitmer plans to address with bigger spending comes at the expense of Michigan residents' jobs and bank accounts.
Massive new taxes, spending, and regulations will demolish 8 years of meaningful job growth under conservative, pro-worker leadership. Michigan workers will pay the price."
The Michigan College Access Network

The following statement is from Brandy Johnson, executive director of the Michigan College Access Network (MCAN), in response to comments about education delivered by Gov. Gretchen Whitmer in her 2019 State of the State speech:
"Governor Gretchen Whitmer's inaugural State of the State address drew a crucial connection among Michigan's talent pool, economic vitality and the need for postsecondary attainment. MCAN is thrilled not only with Gov. Whitmer's 'Blueprint' to prioritize both K-12 and postsecondary education, but also with her bold vision of a 60 percent postsecondary attainment goal—a goal that aligns with MCAN's agenda and aims to prepare Michigan's residents for the jobs of tomorrow.
We applaud Gov. Whitmer's efforts to make education a priority for all students by calling for investments in education to address the talent gap.  Affordability is a major barrier for Michigan families, and we believe the creation of the Michigan Opportunity Scholarship, which will provide a two-year debt-free pathway through Michigan's community colleges or funding toward a four-year degree, will be an important stepping stone for students considering education beyond high school. We are also pleased she announced the 'Michigan Reconnect' program that will enable adults to earn a postsecondary credential valued in today's labor market. 
The bottom line is simple: college should be accessible for all. Today's students need a postsecondary credential to succeed in a 21st century economy. We stand ready to partner with the Governor, her administration, and the state Legislature to implement and support these important initiatives."
As the leader in the state's college access movement, MCAN's mission is to increase Michigan's college readiness, participation and completion rates, particularly among low-income students, first-generation college going students, and students of color. For the seventh year in a row, Michigan's postsecondary educational attainment rate has increased — from 35.7-percent of 25-to-64-year-olds possessing at least an associate degree in 2008, to 39.4-percent in 2015. Additionally, it is estimated another 4-percent of Michiganders have a high-quality certificate, bringing Michigan's official attainment rate to 43.4-percent as of 2018. It is MCAN's goal to increase Michigan's postsecondary educational attainment rate to 60-percent by the year 2025. For more information, visit micollegeaccess.org.
The Education Trust-Midwest
In her first State of the State address, Governor Gretchen Whitmer spoke on the great need to improve educational opportunity in Michigan. With an emphasis on bipartisanship, the Governor focused on the importance of educators and improved school funding.
The following statement is from Amber Arellano, Executive Director of The Education Trust-Midwest:
"Tonight, Governor Whitmer called for all Michiganders to join together to tackle our most pressing challenges. From early childhood through post-secondary, public education in Michigan is in great need of serious improvement. Over nearly two decades, the quality of Michigan's public education system has slipped from average to near national bottom, and is now among the lowest performing for African American and Latino students, and students from low-income families in key subject areas. Michigan did not get here overnight, and a true educational recovery will take time, as well.
Governor Whitmer rightly focused on critical levers for improving educational quality in Michigan. Educators make a difference in the lives of Michigan students each and every day. Respecting this critical work, supporting continuous improvement, and providing the tools and resources to equip educators to succeed will all help move Michigan toward the goal of becoming a top ten education state.
Ensuring that Michigan schools have the funding to meet their students' needs - particularly the needs of vulnerable students - is also essential. While state government has many important priorities to balance, providing a high-quality education to all Michigan students should surely top the list. Equitably funding our schools and insisting on investments through evidence-based, systemic approaches to raise teaching and learning, is where Michigan should begin.
We look forward to partnering with the Governor, legislators on both sides of the aisle, civic leaders and educators to make quality education a reality for every Michigan student."