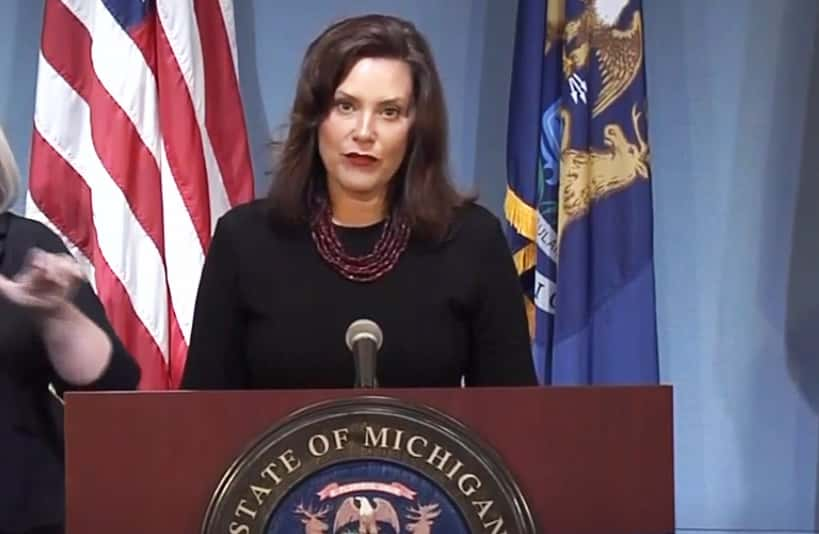 Michigan Governor Gretchen Whitmer is headed to Washington, D.C. next week — at least virtually — to testify before the House Energy & Commerce Committee's Oversight & Investigations Subcommittee to address the state of Michigan's response to the coronavirus pandemic. She will be joined in testifying before that subcommittee by Democratic Governor Jared Polis of Colorado and Republican Governor Asa Hutchinson of Arkansas.
The session is being called "On the Front Lines: How Governors are Battling the COVID-19 Pandemic," and is slated for 11:30am next Tuesday morning on Capitol Hill through a live webcast on the Energy & Commerce Committee's website.
Congressman Fred Upton is a member and former Chair of the Energy & Commerce Committee.
Whitmer says she is looking forward to sharing Michigan's response and what the state has been doing since day one.
She was invited to take part in the congressional testimony by Committee Chair Frank Pallone Jr of New Jersey and Subcommittee Chair Diana DeGette of Colorado who have shared a statement saying they want to learn first hand from the governors regarding where they feel that the federal response in the pandemic has fallen short. The two say, "As more states start to re-open, access to widespread testing, as well as contact tracing and surveillance, are key to monitor for potential outbreaks and keep communities safe," however, they add, "For months, the Trump administration has relegated its responsibilities to the states and refused to develop and implement a coordinated national testing strategy with clear timelines and benchmarks."
The lawmakers contend, "This failure of leadership has essentially left states battling each other on the open market." They conclude, "We look forward to hearing from several governors on their states' ongoing work to respond to the pandemic and what further support is needed from Congress and the administration."
During her Friday press conference today, most of the governor's guests from various departments simply addressed details of several programs rolled out in the past couple of days as already reported in detail here on Moody on the Market, those are linked below.
The governor was asked again on behalf of restaurant owners and salon operators for some kind of hopeful time line, but she stayed the course with her standard response that "because of what we've accomplished we will be in a position to re-engage other regions of the state and sectors of business, but we need to continue to turn that dial slowly so we don't risk a second wave," pledging, "nobody is as eager as I am to take that action, but we have to make sure that everyone is safe and secure."
She did say that she has meetings tomorrow to discuss the next phase of re-opening, and when addressing the opening of private campgrounds suggested the timeline was in "days," ahead. Stay tuned.
Here is the link for the story about the PPE portal addressed by speakers today:
https://www.moodyonthemarket.com/with-businesses-headed-to-re-engagement-ppe-becomes-critical/
Here's the link to the story earlier today about the MIOSHA re-opening guidelines by industry sector:
https://www.moodyonthemarket.com/new-pandemic-workplace-safety-portal-established-by-miosha/