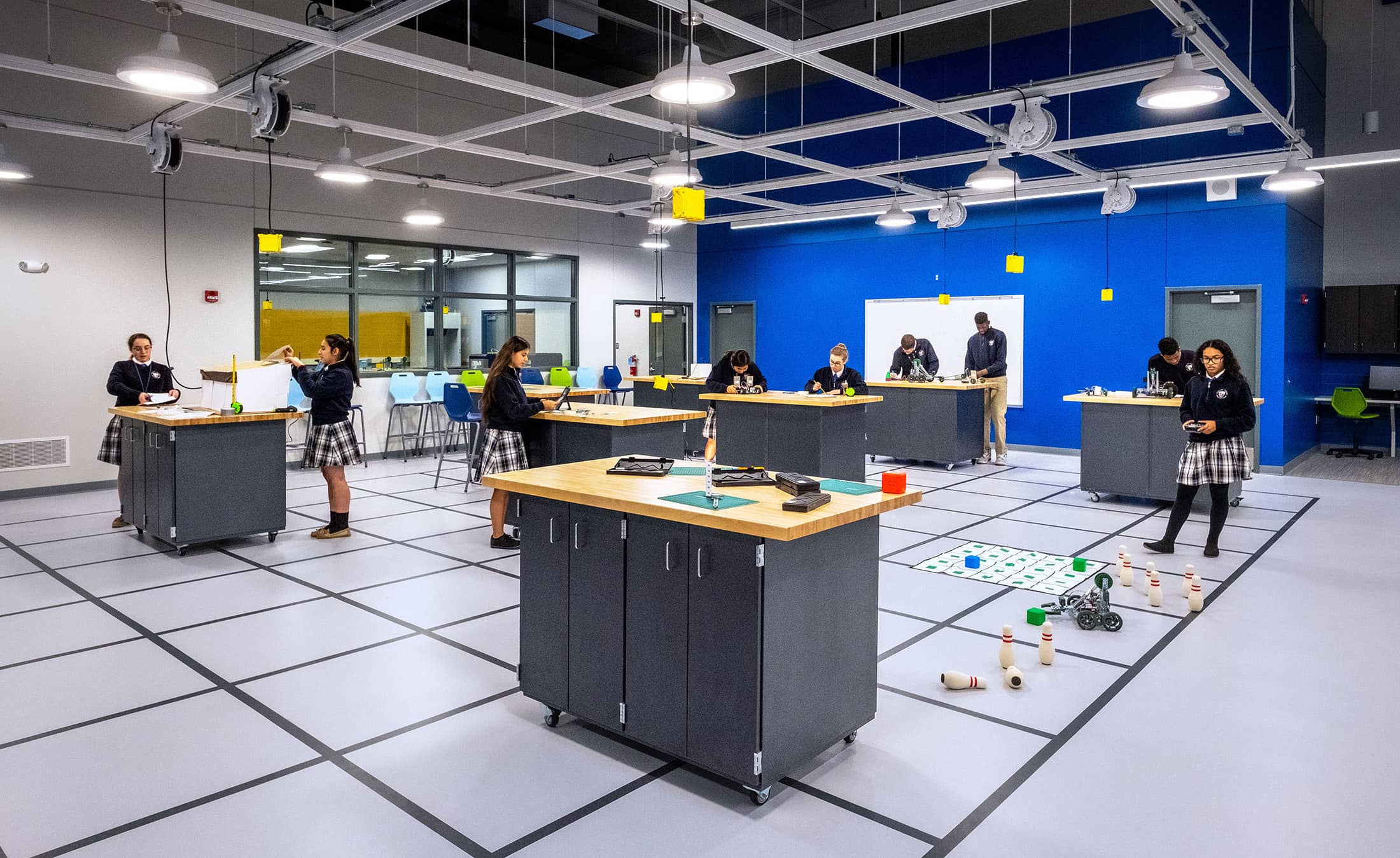 Hockey fans know that a "hat trick" means three scores for a single player, and they love it when that happens (at least if it's from their own team). The team at Benton Harbor-based Wightman is feeling that same euphoria following a triple award winning accomplishment stemming from their incredible work for the Bishop Noll Institute in Hammond, Indiana.
Wightman's architectural and interior design of a STREAM lab for Bishop Noll Institute continues to garner attention, specifically that award-winning kind. The Great Lakes regional multi-disciplinary firm, anchored on Pipestone Road in Benton Harbor, recently received three prestigious honors celebrating their creative, innovative design that transformed an underutilized natatorium-turned-activity center into a dynamic learning space at the Catholic college-prep high school located in Hammond.
BNI hired the Wightman architecture team, under the leadership of Greg Monberg, licensed Architect and Director of Architecture, to design a space suitable for students to engage in STREAM (Science, Technology, Religion, Engineering, Art, and Mathematics) educational opportunities. The newly renovated 7,050 square foot layout created dedicated learning areas for students including a prototype lab, Makerspace, design studio, student project display area, learning studio, teacher workspace, small group learning area, independent study area, and security vestibule.
Bishop Noll Institute president Paul Mullaney says, "The desired functionality of the learning space was always prioritized, never compromised, and Greg and his Wightman teammates knocked it out of the park. The greatest reward in all of this is seeing our students' fervor for wanting to learn, explore and achieve when they step into that facility."
Learning by Design, an industry staple that recognizes architectural design excellence and innovation in pre-K to 12 and college/university projects, presented Wightman with an Honorable Mention award for the firm's work on the BNI STREAM lab in its Fall 2020 Architectural and Interior Design Awards of Excellence program. Wightman was one of 12 firms to receive distinction out of 56 nationwide firms that submitted educational design projects.
Two awards were also bestowed upon Wightman by American School & University magazine's 2020 Education Interiors Showcase. The STREAM lab was selected as Outstanding Design in both the Technology Centers and Interior Renovation categories. American School & University provides education facility trends, strategies, and technologies to professionals.
The new laboratory space fosters an atmosphere of both independent and group functionality. Collaboration between students and staff is promoted by the inclusion of modular furnishings, portable whiteboards, computer stations sized for larger group work, and a small group work area on the 1,070 square foot mezzanine. Hands-on learning and problem solving are facilitated in the Prototype Lab where students can build projects using 3D printers and fabrication tools. The Makerspace gives students a place to test projects and solve design problems.
Casey Bourdo, a registered interior designer certified by the National Council of Interior Design Qualification (NCIDQ), leads the Interior Design team at Wightman. She commented, "One of our primary goals in designing the STREAM lab was to listen carefully to the client's functional needs for the underutilized space – what types of spaces did they want and what did they desire, as far as furnishings and equipment, in each of these spaces."
Director of Education Dr. Joseph Majchrowicz tells us, "The lab has been a game changer for students, staff and the greater Catholic school community. The team at Bishop Noll had the pleasure of partnering with Wightman and Associates for the project. From start to finish the associates from Wightman were engaging, knowledgeable, and caring partners." Majchrowicz adds, "Bishop Noll Institute can boast of its enhanced learning environment as a result of having partnered with Wightman and Associates.
Greg Monberg says, "The award is not as important to us as the benefit the new space is going to provide to the STREAM Team at Bishop Noll. We are proud to have helped them imagine what a cutting-edge learning space should look like and how it should function to support science, technology, religion, engineering, art and math. We are excited for the program to have learning spaces enriched with technology which will offer students new learning experiences they could not have had before."
Wightman has offered architecture and interior design services for over 30 years to the residential, educational, governmental, and commercial industries. For more information about architectural services, you can contact Greg Monberg at (269) 487-9673 or gmonberg@gowightman.com.  For more information about interior design services, you can contact Casey Bourdo at (269) 487-9660 or cbourdo@gowightman.com.
Shown in the photo accompanying this story on Moody on the Market is the Bishop Noll STREAM Lab Makerspace, which creates a vibrant, hands-on learning space for students that includes a robotics area, overhead power and technology and mobile storage for materials and prototypes. The photo is courtesy of Wightman.