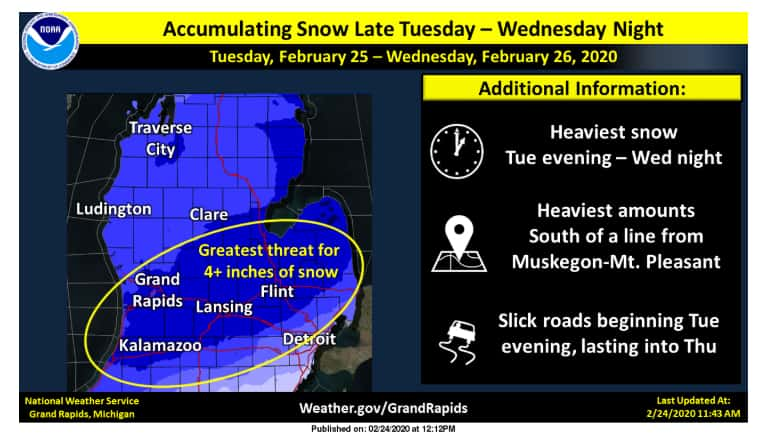 Don't be fooled by Mother Nature's relatively balmy weather enjoyed over the weekend. Winter has not, as yet, left the building. In fact, the National Weather Service in Grand Rapids has issued a Winter Storm Watch which will go into effect from tomorrow afternoon, Tuesday, February 25th, 2020 through Wednesday evening, February 26th.
Total snow accumulations ranging from 4 to 7 inches from Tuesday afternoon through Wednesday evening are possible throughout portions of Southwest Michigan as well as into central, south central, and west central Michigan. Forecasters are cautioning that if the storm develops to the degree they are teeing up, travel could prove difficult, especially on Wednesday when temperatures drop and untreated roads become icy and snow covered.
After some light rain and snow tonight, the better chance for accumulating snow moves into the picture Tuesday evening through Wednesday night. Forecasters say that those areas south of a line from Muskegon to Mt. Pleasant are likely to see the heaviest amounts, where over 4 inches of snow will be possible. The Wednesday morning and Wednesday evening commutes will be most impacted with snow covered and slick roads expected at this juncture. Stay tuned.