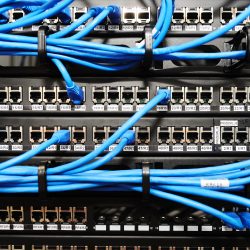 If you want an example of how a manufacturer based in a more rural setting is at a distinct disadvantage without access to broadband capabilities connecting the business to high-speed internet service, consider the unconscionable time it takes to upload or download detailed technical drawings or specifications in a complicated spreadsheet without that access. Business-minded State Rep Beth Griffin is working hard to level the playing field going forward.
The House Communications and Technology Committee yesterday advanced a bill, with bipartisan support, proposed by Griffin, a Republican State Rep out of Mattawan, which streamlines requirements needed for broadband expansion work in county rights-of-way.
County road commissions have jurisdiction over rights-of-way and require permits, inspections and project reviews due to the close proximity of lines and mains beneath the ground. Right-of-way permit requirements vary widely from county to county, creating an arduous process for telecommunication and video service providers. Griffin's proposal helps to streamline that process.
Griffin says, "The importance of improving internet service quality and speed is something that I consistently hear about from residents of the 66th District. With the importance of fast and reliable internet in today's world, areas that do not have reliable access to high-speed broadband are at a significant disadvantage when it comes to keeping and attracting jobs and residents." She adds, "We have to level the playing field for those who need these services in rural areas and ensure that government does not present a barrier to that expansion."
House Bill 5097 moves to the full House for consideration.