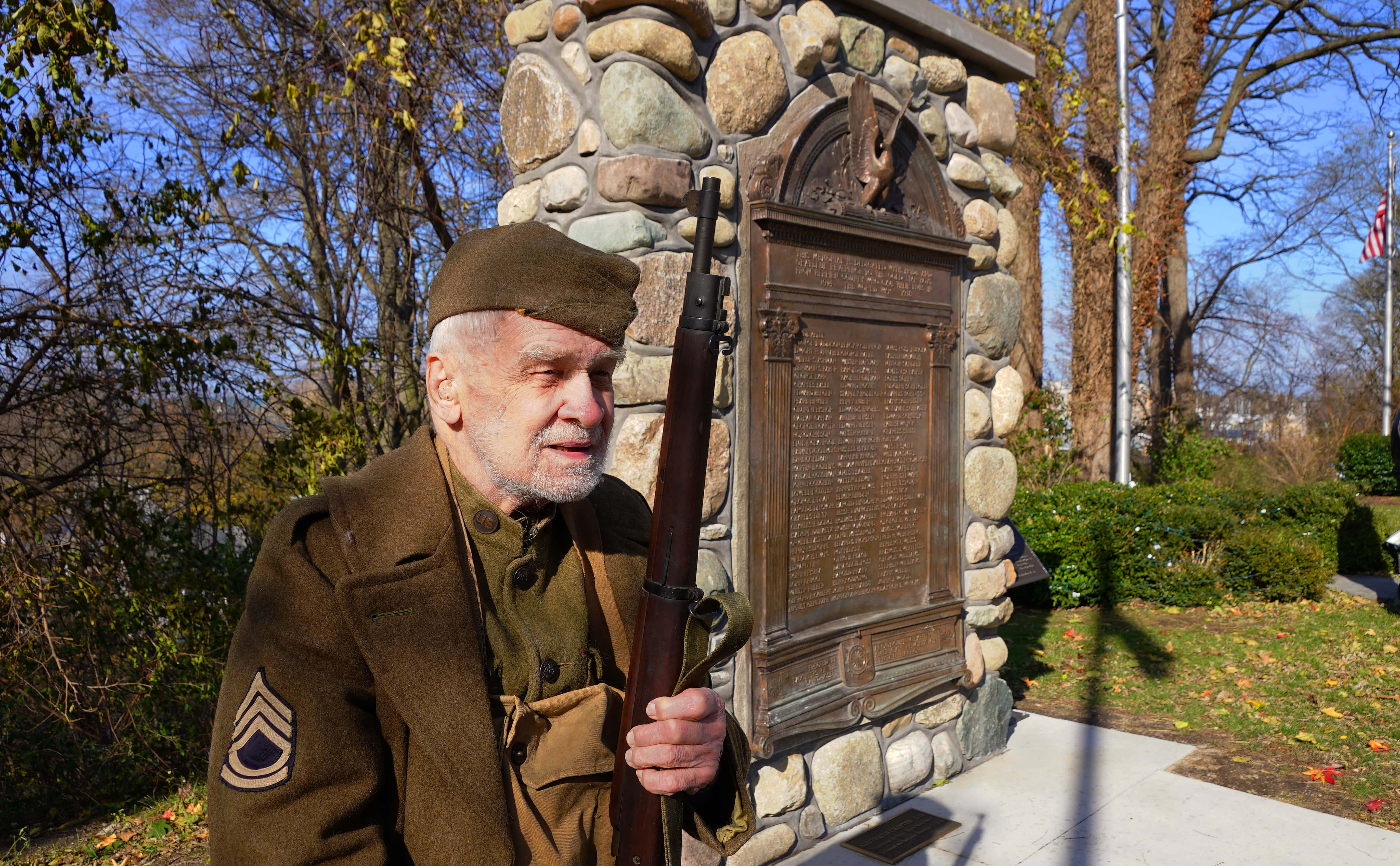 Thanks to more than a decade of diligence, a slice of American military history has re-emerged, shining brightly along the lake bluff in St. Joseph, and re-dedicated in ceremonies to honor the 100th Anniversary of the end of the Great War -- World War I.
Led by the indomitable Patricia Hill and her colleagues Linda Honyoust and Laura Tito and the excellent craftsmanship of Stonemason Sean Murphy, the 7 by 4-foot bronze plaque commissioned in 1923 by the Algonquin Chapter of the Daughters of the American Revolution in St. Joseph and Benton Harbor originally placed in the Old Berrien County Courthouse to commemorate the lives of the 100 men listed thereon who had given their lives for their country in the war, is back in all of its glory in Lake Bluff Park across from the Boulevard Inn.
Thanks to Genealogist Linda Freehling from that same chapter, we now know more about the names that appear on that monument re-dedicated Sunday afternoon in St. Joseph. I asked her to share her remarks with me so that I could share them with you, to show that they are more than just names on the plaque:
When I looked at the soldiers' names on the WW I plaque, the first question that came to my mind was "Who are they?"  So I researched each one of them, because they aren't just names on a plaque. 
They were young men, from the ages of 18 to 29.  They were born in Berrien County and other counties in MI.  Some were born in Chicago, Illinois, Ohio and Indiana.  Some were African American and Native American.  Others were immigrants born in Italy, Austria-Hungry, Poland, Russia, Germany, & Sweden.  Some just had parents or siblings that lived in Berrien County.
They were farmers, bartenders, a press man, a surgeon, a laborer in the Ingham County jail, a motion picture operator, a paper cutter, a printer for Baker-Vawter Co. in BH, a papermaker in Niles, a cement worker, a painter, a metal worker for Hunter Co. in Niles, a lineman for AT & T Co. in Chicago; truck drivers, teachers, a worker at Towar Cotton Mills in Niles, a salesman, and two who worked for Clark Equipment Co. in Buchanan.  They were sons, brothers, husbands, fathers, and grandsons.  On 5 June  1917, most of them had to sign up for the draft. They all became Army soldiers, Navy sailors, Marines, or pilots in the Army's Areo Squadron.  One of the immigrants had just filed his first papers for U.S. citizenship and another had only been in this country just 3 years before they were both called for service in Europe. 
They trained in military camps around the United States, many of them at Camp Custer in Augusta, Michigan.  As they crowded into barracks, dozens of these men died horrible deaths from influenza, a pandemic that hit in the middle of the war in 1918 and swept around the world, killing millions. On 3 October 1918, the Kalamazoo Gazette announced that 4,000 men at Camp Custer were infected with influenza.  Those unaffected were sent on ships mainly from Hoboken, New Jersey, and New York, NY, two to four thousand at a time on a ship, to Liverpool, England, and then on to France.  One was sent to Belgium. And in September 1918, near the end of the  war, two of these soldiers were sent to Archangel, Russia, near the Arctic Ocean, to fight in the Russian Civil War until May 1919. There it soon got down to 50 degrees below zero.
The rest were all sent to the frontline in France.  When trucks couldn't navigate the terrain in the battlefield, they were sent to war with guns; horses and mules pulling wagons. More than one of these men ran thru heavy shellfire and were killed.  Another's plane crashed.  One was mortally burned in a ship explosion.  A medic pulled two other soldiers who were shot into a shell hole, administering first aid—he was killed 2 days later. One was a POW; another was MIA (missing in action) and was never found.  There were German nests of machine guns and bullets whizzing by all day and all night.  It was a war of digging and living in trenches (sometimes filled with water) and scrambling out of them.  Guns firing, shells and bombs dropping.  Many were exposed to chlorine, phosgene or mustard gas; choking, burning from the chemicals.  War is brutal.  Of these one hundred men, those who weren't buried overseas returned to the U.S. on ships holding more than 2,000 to over 5,000 dead soldiers at a time.  Ship after ship.
What these 100 men all have in common is that they all gave their lives in service to our country, and for our Allies.  What they all have in common is that they are all heroes. 
When the new, current, Berrien County Courthouse was built, the plaque ended up going into storage in the basement. Meanwhile, the St. Joseph Post of the American Legion Auxiliary had commissioned the bronze "Spirit of the American Doughboy" statue in memory of all who served in the Great War and that statue was placed on the bluff in St. Joseph and dedicated on November 11th, 1930.
Later, the Algonquin plaque was installed behind the Doughboy in a bed of cement on the earthen berm, but that location would fill with leaves and snow, and people were far less likely to see it, than the statue.
That's why Patricia Hill conceived the idea to move the plaque to a more visible location to better honor the local men who had died in the war. Discussions began with city hall, fund-raising was undertaken, project approval was eventually granted and yesterday's re-dedication was the end result on a bright, sunny afternoon.
A St. Joseph High School Select Band played the national anthem, Bagpiper Adam Graham from Hastings, Michigan played several times accompanied by an Honor Guard and wreaths were placed at each of the war memorials along the bluff before the final wreath was put into place at the newly re-dedicated wall plaque.
A 21-gun salute was offered up by the Berrien Springs American Legion Post #85, and Taps was played by Jackie Witt of Bridgman while retired 92-year old WWII Bugler John Nelson remained standing next to the monument in full uniform throughout the hour-long ceremony.
It was a fitting ceremony on an historic day in Michigan's Great Southwest.