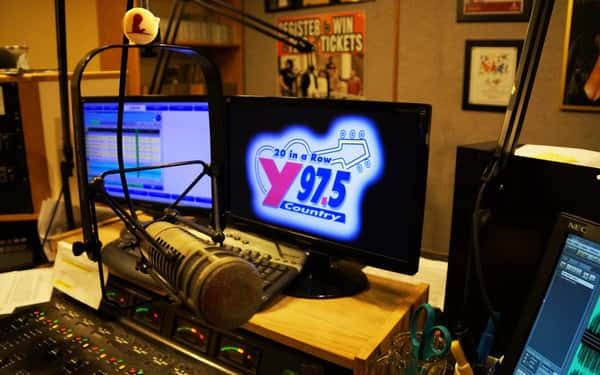 One of the most successful radio fundraising events in broadcast history springs to life again this week as Mid-West Family Broadcasting's 97.5 Y-Country Radio — WYTZ — plays host for the 11th consecutive year in the 2016 Country Cares for St. Jude Kids Radiothon, broadcasting live from the Silver Beach Center in St. Joseph.
Tomorrow and Friday, February 18th and 19th, the radio station will give over the airwaves from 6am until 7pm each day to the event, shared nationwide with more than 200 radio station partners from coast-to-coast.
Y-Country Promotions Director & Afternoon Air Personality Lindsay Kay says the nationwide fundraiser is celebrating its 27th year this year, originally credited to Randy Owen, lead singer of the musical group Alabama. Lindsay tells me, Country Cares has grown to be one of the most successful radio fund-raising events in the nation, with more than 200 station partners raising more than $500-million in pledges." That half-a-billion dollars helps fund research that is in turn shared with our local community hospitals.
Emotions understandably run high during the live broadcasts as stories from doctors, nurses, entertainers, parents and even the children themselves are related throughout the broadcast, working to encourage donations that touch the lives of many people including those right here in our own community.
The Country Cares for St. Jude Kids Radiothon raises money for St. Jude Children's Research Hospital, ranked as one of the best pediatric cancer hospitals in the nation. St. Jude is the first and only National Cancer Institute-designated Comprehensive Cancer Center devoted solely to children. In the 10-year performance of the local Radiothon, local listeners have pitched in to raise in excess of $265,000.00.
Here's the online link for donations if you are unable to call or stop by the Silver Beach Center
Listeners can donate during the radiothon by calling in to the phone bank throughout the broadcasts or online 24/7 by clicking the link below. Visitors are also welcome to visit the live broadcast in person, as well, at the Silver Beach Center tomorrow and Friday. The center is located below the bluff in St. Joseph across from the Amtrak train depot and the Compass Rose Fountain near Silver Beach County Park in St. Joseph.