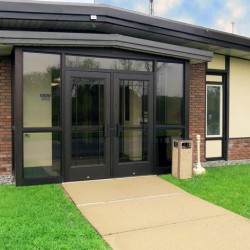 A privately-owned Decatur company is expanding its manufacturing footprint in Michigan's Great Southwest to a new million-dollar venture on Empire Avenue in Benton Charter Township. Special-Lite, Inc. has purchased the former Modar plant at 1394 Empire for new manufacturing operations to go along with sites already in place in both Decatur and Niles, as well as a facility in Marshall, Arkansas. The company was assisted in their search for a viable manufacturing facility by Cornerstone Alliance.
Ironically, the company is a manufacturer of high-performance entryways for multiple commercial markets including office buildings, banks, restaurants, churches, museums, casinos, shopping malls, colleges and myriad other applications. Many of those same industries used to have custom-made display cases and point-of-purchase displays manufactured in that plant by the team at Modar.
Kevin Hanley is President & Chief Operating Officer at Decatur-based Special-Lite. He says, "We are very pleased to expand our presence in Berrien County." He adds, "Our business has grown for both our existing and new products. This growth has resulted in the need for more manufacturing space for the interior architectural products currently manufactured at our Niles facility." He points out that the Benton Township location, "Will allow us to function more efficiently as we manufacture products for our customers across the country. It will allow us opportunities for future growth as we add products that are under development."
The economic development team at Cornerstone Alliance provided technical assistance as well as coordinating efforts with Benton Township government officials. Cornerstone Chief Operating Officer and Vice President of Business Development Greg Vaughn says, "Special-Lite has been in business since 1969 and has enjoyed great success and growth. This investment in Berrien County supports the talent and innovation of the existing workforce and why businesses are continuing to grow."
Benton Township Superintendent Kevin White welcomed Special-Lite, saying, "We are pleased that they are expanding their business operations here and wish them great success."
The more than $1-million investment in the building on Empire allows for unlimited opportunities including future job growth and expansion. The expect to be up and running by the first of June.
The former Modar building was on the market and vacant since the company departed in 2015.
Special-Lite has grown exponentially over the years through both organic growth internally and by acquisition. In 1975 they acquired the DESCO aluminum stile and rail door business of Adams & Westlake, Inc. of Elkhart. Five years ago they acquired Universal Pultrusions of Marshall, Arkansas, and in 2015 they bought out the Omega Aluminum Framing business of Chicago's Architectural Builders Hardware Manufacturing, Inc.
Two years after acquiring Universal Pultrusions, Special-Lite added 65,000 square feet to their Marshall, Arkansas site while substantially modernizing that facility.
The extensive gallery of Special-Lites top quality work on the corporate website shows remarkable prowess in the crafting of first class doorways, entries and other specialized applications for businesses and organizations of all stripes.
The company has a long history of producing entrance products that provide longer service life even in the most demanding of markets. Their high-performance, custom-fabricated entrance systems include flush doors, monumental doors, framing, panels, vision lites, and related hardware products for new construction, renovation or replacement requirements. Each door and frame they make is a custom solution, made to order.