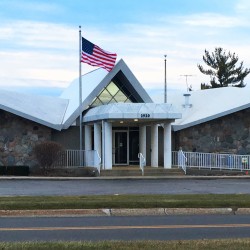 Aging baby boomers are commanding more and more services in the elder care arena, but are still eager to remain active on a variety of ways that their forefathers might never have realized as options. Recognizing that there will be increasing demands with every passing year, forward thinking leaders at the Region IV Area Agency on Aging are stepping up to take advantage of the impending departure of their next door neighbors at Honor Credit Union. In fact, they are buying the adjacent building to create an even stronger campus feel to their complex along Lakeview Avenue in St. Joseph.
As work progresses steadily on the new Honor Credit Union customer service center and St. Joseph branch several blocks away along Niles Avenue in the Southtown neighborhood of St. Joseph, the leadership team at the Region IV Area Agency on Aging is capitalizing on the opportunity to expand to accommodate the growing demand for their services by acquiring the Honor Credit Union facility at 2920 Lakeview Avenue. That was the long time home to Honor Credit Union's headquarters facility and St. Joseph branch until the financial institution crafted a major new facility overlooking the St. Joseph Valley Parkway in Berrien Springs.
Realizing that the impending departure of Honor's team would leave the building vacant, the Region IV Area Agency on Aging elected to purchase the building and have room for expansion, thanks to the immediate adjacency to the agency. Honor is expected to move to the new Niles Avenue building when it is complete this spring.
The Agency on Aging and PACE of Southwest Michigan have expanded to fill all of their existing building at 2900 Lakeview which was renovated in 2011. The addition and renovation of 2920 Lakeview will create a more campus-like venue for services, training and volunteer opportunities.  The aim is to showcase the many ways to stay healthy, active members of the community, throughout life. Announcements of expanded programming will be available later this spring.
Region IV Area Agency on Aging is a non-profit organization offering comprehensive and coordinated services to assist older persons and other vulnerable adults in maintaining independence in their homes and communities.