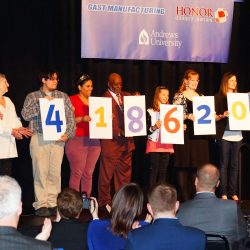 History has been made once again in a spectacular way, in one of the most philanthropic community's in the nation. Tonight's (Thursday) United Way of Southwest Michigan Annual Celebration proved that the community is in good hands, as the annual campaign cut through a $4-million goal like a hot knife through butter.
The non-profit organization set a lofty campaign goal of $4 million last year, and the work put in by Berrien and Cass county donors, volunteers and community members paid off handsomely. United Way set another record, attaining a historic $4,186,203 in 2016.
The night may have been highlighted by the money raised, but was decorated by the lives changed. The attainment presenters were recipients of United Way services. Nate Whitelow has been a Foster Grandparent through Area Agency on Aging for almost five years. Foster Grandparents is a program funded by United Way. Nate was able to take to the stage to help reveal the attainment.
A former United Way staffer, Angela Brownie helped establish Dolly Parton's Imagination Library back in 2009. Now, her children are enrolled in the reading program. She, too, took to the stage to help reveal the attainment.
United Way of Southwest Michigan President Anna Murphy capped it all, saying, "It was a very special evening. There was a lot of hard work put into making this event possible." She added, "When you surpass your goal, you have to give credit to the community. We did this together, and together we are able to change more lives because of it. We are grateful to all of the donors, volunteers and community members who helped make this happen."
As the night's finale video stated, United Way is more than the fundraisers; they're the "hand-raisers," the "gamechangers." More than 72,000 people across Berrien and Cass counties were served in 2016 through United Way, nearly one-third of the population of the two counties combined.
More than $3.1 million of state and federal funds were leveraged through United Way funding. And volunteers racked up over 32,400 hours of service, a value of more than $764,000. The numbers only go on.
United Way backed up the numbers with touching success stories told through 4 videos presented throughout the evening, focusing on Education, Income, Health and Basic Needs.
One video featured Misty Dotson, who grew up with an abusive alcoholic father. At just 10 years old, she witnessed her mother kill her father in self-defense. Her mother later died of cancer, which sent Misty's life into a world of heavy drug use, including meth amphetamines. She finally received help through the Substance Abuse Enhanced Outpatient Program at Woodland's Behavioral Health in Cassopolis. Misty now works at Woodland's helping others overcome their addiction.
Ann Cardon, Superintendent of St. Joseph Public Schools served as the 2016 United Way Campaign Chair. She says, "2016 was an amazing year. It was such an honor to work with so many dedicated people that are focused on the health, education and financial stability of everyone in our community — and to watch our community rally around these values through their giving was inspiring."
United Way also thanked the following sponsors for the event: 1st Source Bank, Lakeland Health, AEP, D.C. Cook Plant, Whirlpool Corporation, Gast Manufacturing, Honor Credit Union, and Andrews University. For more information on United Way, visit www.uwsm.org. To view United Way's "We Fight For" video, click the link below:
https://www.facebook.com/unitedwayswmich/
2016 AWARD WINNERS:
Campaign Chair Recognition Presented by Catie Brown:
Ann Cardon
Milestone Awards Presented by Christine Vanlandingham & Dan Applegate
Large Business of the Year Presented by Bob Harrison:
Gast Manufacturing
 Whirlpool Corporation
 Medium Business of the Year Presented by Kim Richardson:
 Mid-West Family Broadcasting
 Small Business of the Year Presented by Jennifer Ray & David Brooks:
 Coloma Township Police Department
 ECC of the Year – Large Business Presented by Joe Tanko:
 Lauren Thurston and Stephanie Timmer, Chemical Bank
 ECC of the Year – Medium Business Presented by Zack East:
 Becky Ritter, 1st Source Bank
 ECC of the Year – Small Business Presented by Sarah Hadley:
 David Ravitch and Allan Volker, Ravitron
 Inspired Giving Award Presented by Tanya Urias:
 Lindberg/MPH
 Campaign Cabinet Choice Award Presented by Zack East:
 Martin's Super Markets, St. Joseph
 David J. Weichhand Award Presented by Dave Doetsch
 AEP, DC Cook Plant
Impact Chair Recognition Presented by Andy Janson:
 James Knight, United Federal Credit Union
 Live United Award Presented by Nermina Kamencic:
 Kinexus
Excellence in Impact Award – Organization Presented by Jamie Rossow:
 Woodlands Behavioral Health Network
 Excellence in Impact Award – Individual Presented by Zech Hoyt:
 Mike Mortimore
 Pacesetter Recognition:
 AEP, DC Cook Plant
 Competitive Edge
 Edgewater Bank
 1st Source Bank
 Kemner Iott Benz
 Lakeland Health
 Meijer of Benton Harbor
 Meijer of Stevensville
 Mid-West Family Broadcasting
 Walsworth Publishing Company
 Milestone Awards:
Breakthrough Award 
CARES
 Edgewater Bank
 Horizon Bank
 Lake Michigan College
 Lakeland Health
 Modineer
 Old National Bank
 Senior Nutrition Services
UPS
 Vail Rubber Works, Inc.
 Watervliet Public Schools
 Milestone Awards:
 Trendsetter Award
 Boys & Girls Club of Benton Harbor
 Gateway
The Herald-Palladium
 Kemner Iott Benz
 Lakeshore Public Schools
 Michigan Gas Utilities
 Mosaic CCDA
 Pri Mar Petroleum, Inc.
 St. Joseph Public Schools
Teachers Credit Union
Milestone Awards: 
Landmark Award
 1st Source Bank
 AEP, DC Cook Plant
 Andrews University
 Berrien Springs Public Schools
 Chemical Bank
 Child & Family Services of Southwest Michigan
 Coloma Community Schools
 Coloma Township Police Department
 Competitive Edge
 Gast Manufacturing, an Idex Corporation
 Honor Credit Union
 Indiana Michigan Power
 Kinexus
Martin's Super Markets, St. Joseph
 Mid-West Family Broadcasting
 Walsworth Publishing Company
 Whirlpool Corporation
 Milestone Awards:
 Capstone Award
 Ravitron
 Wolverine Pipeline