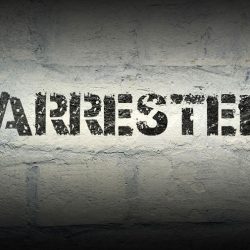 Criminals who fail to heed the advice to lay low inevitably trip themselves up eventually, and that is exactly what has led to the arrest of a Bangor man who had been at-large for several days following a crime spree in which he was accused of trashing and setting fire to a laundromat in Bangor after he had stolen money from the coin-operated machines in side.
Authorities say that 21-year old Dominick Wheeler continued to use both his cell phone and social media channels while he was hiding out at an apartment in Pullman and that activity helped police to track him there and make the arrest Tuesday following a three day manhunt after he escape police custody late Saturday night.
Wheeler had been sought on arson and burglary charges after allegedly setting fire to the Ms. Laundry Mat in Bangor Saturday night, likely in an attempt to cover up the damage he did to machines inside in stealing cash from the building.
Bangor Police Chief Tommy Simpson says his team and the Michigan State Police tracked Wheeler to his hideout in Pullman thanks to his social media activities and the continued use of his cell phone while he was on the lam.
Authorities say he will like face new charges after he was arrested Tuesday. He had been arrested Saturday night after being found at the scene of his crimes, but managed to escape the back of the squad car he had been in by kicking out the cage keeping him in the back seat of the vehicle when police were distracted by crowd control duties and their ongoing investigation of the damage to the laundromat.
The business sustained considerable damage and remains closed. Wheeler is being held on a quarter million dollars bond and is charged with several felonies. He had already been on police radar before his crime spree, wanted for several warrants.