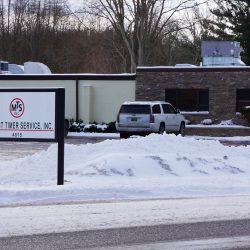 Diversification efforts by Midwest Timer Service of Benton Harbor has borne fruit at a particularly fortuitous time in the company's evolution process and with any luck might be the first of several such transactions going forward. Aided by recruitment efforts from Calder Capital, the Chapman family at Midwest Timer recently closed on a deal to acquire Lectro Components, Inc. of Carol Stream, Illinois.
We first told you last spring about Midwest Timer's bid to acquire additional manufacturing or distribution businesses in the region in order to diversify into new products, markets and capabilities. They engaged Grand Rapids-based Calder Capital to assist those efforts and a deal was struck last fall with the acquisition process concluding in late December.
The timing was essential for Midwest Timer which lost the last production business from a long term lucrative contract with Whirlpool Corporation in late October. The end of the production run forced Midwest Timer to dispatch more than half of its 80-member workforce, trimming the staff to 35 people.
Calder Capital's Patrick Robey is lead transaction advisor and Director of Corporate Development for the firm. He had worked quickly on Midwest Timer's behalf, saying that within 30 days of taking on the task of finding new deals for Midwest, he had narrowed the search to a handful of companies. Bruce Chapman is Co-owner at Midwest Timer and Vice President of Finance. He says, "45 days later, we signed an Indication of Interest letter on the target company we eventually purchased." He adds, "Throughout the due diligence process, we found Patrick (Robey) to be exceedingly knowledgeable and at all times seemed to be one step ahead of us."
The result is Robey delivered to the bargain table Lectro Components, a company founded in 1974 which developed new business and grew exponentially in the early years, relocating several times until settling  in 1985 in Carol Stream.
Lectro Components is a well-established and respected member of the electronics distribution industry, specializing in terminal blocks, relays, timers, connectors and controls. The firm also developed Core Components, its own line of products for the building automation industry.
Robey calls Core Components, "An internationally recognized, single-source supplier of HVAC, controls, and electromechanical components for the electronics distribution and building automation industries."
Midwest Timer Service, anchored on M-63 north of Benton Harbor, has been in continuous operation since 1954. Three generations of the Chapman family have specialized in manufacturing high quality, reliable electromechanical timers for original equipment manufacturer markets, with a primary focus on the appliance and food equipment industries.
Bruce Chapman says, "The Midwest Timer business has served our family well for more than 60 years. As the industry evolves, so must our business." He adds, "As many of our end markets move towards digital solutions, we decided early in 2017 to pursue acquisitions to diversify our product offering and open up additional end markets."
Chapman's brother, Keith Chapman, also a co-owner, says, "We are extremely excited about the opportunity provided by Core Components." He calls Core, "A well-established, highly-respected company that not only fits Midwest's objectives from a growth and diversification perspective, but also from a cultural standpoint." He notes, "Both companies are dedicated to customer service, continuous improvement and quality products. We feel it is a tremendous fit."
Robey, for his part, says working with the Chapmans was a true pleasure, as it was in working with leadership at Lectro Components, adding, "Everyone was very professional and able to work well together throughout the entire process." He calls buying and selling a company a stressful experience for everyone involved and adds, "I give a lot of credit to all sides for working together diligently and positively to reach a mutually beneficial transaction."
Bruce Chapman hopes to replicate that process, saying, "We hope to work with Calder Capital again on our next acquisition and would certainly call them when the time comes to sell our business as well."
Meanwhile, Midwest Timer continues to search for acquisitions in the light-assembly market and manufacturing opportunities. The acquisition of Lectro Components should bring a handful of 4 or 5 new jobs back to the Benton Harbor facility. Terms of the Lectro deal were not disclosed.
Here's a link to the original story last May regarding efforts to diversify at Midwest Timer:
http://www.moodyonthemarket.com/bh-manufacturer-seeks-acquisition-targets-for-growth-diversification/