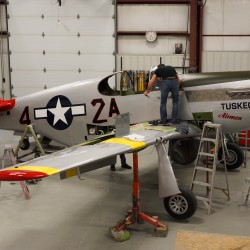 Roughly 65 wide-eyed members of the Boys & Girls Club of Benton Harbor found themselves flanked on two sides this evening by two world renowned World War II military planes valued at nearly $7-million dollars as the Benton Harbor businessman who has been charged with restoring their colorful glory through dynamic new paint jobs told their story and answered questions.
Flying Colors Aviation owner Ken Kaminski regaled the youngsters with slices of history about the P-51C Mustang Bomber Escort his crew is putting the finishing touches on, and an F4U-7 Corsair hinged wing fighter that just arrived two days ago and will be next in line for a total makeover from Kaminski's business anchored in a large hangar complex on the western end of the Southwest Michigan Regional Airport in Benton Charter Township.
Early shyness and reluctance turned into a barrage of questions from the Boys & Girls Club members eager to learn everything from how much the planes are worth to whether of not they still have operating guns on board.
The once-in-a-lifetime opportunity to literally stand under the wings of two remarkable national treasures was not lost on the youngsters who were told most notably about the history of the P-51C Mustang which served as a critical training aircraft for the renowned Tuskegee Airmen in World War II.
Kaminski told the kids that nearly 15,000 P-51s were built for the war effort, and they really became prolific aircraft helping turn the tide in the second half of World War II for America and her allies due to the bravado and skills of the largely African-American squadron of Tuskegee Airmen. Only seven of those "Red-Tail" aircraft, five of which are airworthy including the one that Kaminski and his crew have been administering tender loving care to since it arrived on the airfield on December 13th last year.
Coming into today, Kaminski's Flying Colors team had logged 1,022 hours in bringing the vintage aircraft back to its former glory, and he figures that by the time he turns it back over to the Squadron Leader late this week or early next they will have spent some 1,100 hours restoring the historic plane.
The aircraft is now owned by the Commemorative Air Force whose mission is education so that generations of Americans will value and support the contributions of military aviation in assuring our nation's freedom.
In answer to the kids' questions tonight, Kaminski says, yes, there are guns aboard, but they are purely historical in nature for authenticity, but incapable of actually firing. There are four 50-caliber wing-mounted machine guns on the P-51C Mustang, while the newly arrived Corsair, an aircraft-carrier-based aircraft has four, larger, 30-millimeter cannons aboard.
Tonight's gathering was an opportunity to celebrate the restoration of the beautifully engineered P-51 and welcome the Corsair which will undergo a full transformation with a new paint job in the coming weeks. That aircraft is privately owned. A pilot from the Commemorative Air Force is scheduled to give the P-51C Mustang a test flight over Michigan's Great Southwest sometime tomorrow, Thursday, February 16th, before the last of the finishing touches are put into place by Flying Colors Aviation in preparation for releasing the aircraft back into the annals of history.
The plane will return to service as part of the CAF Redtail Squadron which makes a circuit of airshows and aviation classrooms designed to bring the Tuskegeee Airmen and their legacy to life for audiences nationwide.
The full-tilt restoration of the P-51C Mustang was brought about by an air show crash in 2004. It had to undergo years of physical reconstruction and restoration in Minnesota to make it airworthy again and then it fly in to Southwest Michigan Regional Airport twelve days before Christmas last year to take up the brilliantly flawless new paint job from Flying Colors Aviation.
Kaminski's story is a huge success tale as he continues to grow exponentially based on his sterling repuation since launching Flying Colors 19 years ago. He recently acquired another hangar and, as reported earlier here on Moody on the Market.com, is mid-stride in adding new office space to his building along the airport runway.