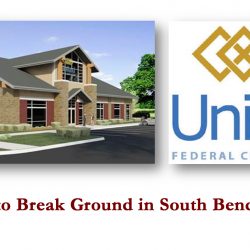 In mid-July we told you about the upcoming dramatic expansion plan into Northwest Indiana by United Federal Credit Union, and that movement is about to get underway in earnest.
This Friday, October 13, 2017 at 3pm, a formal groundbreaking ceremony will take place in South Bend with comments by United Federal Credit Union Chief Lending Officer Stacy Fillmore and South Bend Regional Chamber of Commerce President and CEO Jeff Rea.
United Federal Credit Union will break ground for its first banking center in South Bend, with a new branch that supports UFCU's planned growth in the Michiana region.
The South Bend branch will offer a full complement of services including loans, mortgages, checking accounts, debit and credit cards, investment planning and business lending.
The Redmond Company of Waukesha, Wisconsin, has been selected to manage the construction project of the new building as shown in the architectural rendering accompanying this story on Moody on the Market.com. The South Bend site is situated at the northeast corner of Ireland Road and Lafayette Boulevard in South Bend.
To read our story from mid-July detailing United Federal's ambitious plans for NW Indiana, click the link below with full details on what's planned going forward:
http://www.moodyonthemarket.com/united-federal-to-expand-dramatically-into-south-bend-market/