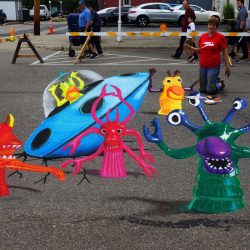 The models for one of the most spectacular chalked canvas creations in downtown St. Joseph this weekend are tiny finger puppets barely an inch or two tall…but their chalked counterparts appear to leap from the pavement and stare you down in a remarkable display of pastel artwork in the 2017 Chalk the Block Festival.
Some artists spent most of the day Saturday and were still at it this morning in the bid to win one of several prizes from St. Joseph Today…and others were hopeful of garnering as many votes as possible in the chase for the People's Choice. You can impact that vote by buying tickets for $1 each to place into the ballot jars at the base of each artist's work right there on the tarmac of Broad Street between State and Lakeview in the heart of downtown St. Joseph.
The Chalk the Block festival is accompanied today by continuation of downtown St. Joseph's Sidewalk Sales with many merchants offering deep discounts on merchandise placed outside their doors. Also on the agenda today is the regular monthly Antiques on the Bluff event which happens the first Sunday of every month through October.
Between 30 and 40 pavement canvases are on display for your viewing enjoyment, and each affords you the opportunity to vote for them through the ticketing system with tickets available from a small pop up tent at the center of the artworks. The artist with the most tickets placed in their ballot jar will win the Peoples Choice Award.  You can vote throughout the afternoon, and the winning artist will be announced tomorrow. Other award winners were due to be announced some time after 1pm today according to St. Joseph Today Executive Director Amy Zapal.
Each artist in the 21st Annual Chalk the Block event is sponsored by an underwriting business within the community.
The alien artwork shown in the photo accompanying this story on Moody on the Market.com was created by Dave & Shelly Brenner of Chelsea, Michigan and is called "Take Me to Your Leader." The Brenners do the chalk art as a sidebar hobby through a business they call A Pigment of Your Imagination, which takes them all over the nation for sidewalk art creations. Their artwork in St. Joe this weekend is sponsored by the Silver Beach Carousel.
Keeping in mind that this sort of artwork is fleeting at best…you'll do well to make it down before the day is out today to see these amazing creations in downtown St. Joe.