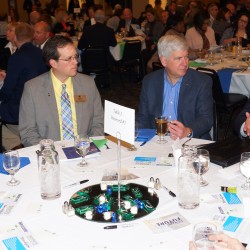 The men and women who keep the wheels of commerce turning all across the region gathered this morning to get some insight on Governor Rick Snyders goals going forward and to recognize some super stars within their midst through the combined efforts of Cornerstone Chamber of Commerce and Cornerstone Alliance in Benton Harbor.
Local businesses and business professionals were recognized by their colleagues at the Grand Upton Hall on the Lake Michigan College Campus in Benton Harbor at the 2017 Business Recognition Breakfast this morning where the Governor delivered the keynote address.
Snyder spoke with great pride about the skilled workforce of Michigan saying, "We have more industrial designers, more mechanical engineers, more industrial engineers than any other state including much bigger states like California. We have that resource here." The Governor added, "We have the skilled trades people, the tool & die makers, the plumbers, the electricians…but we need more, and we need people to recognize that, and to recognize that everyone doesn't need a university degree. There are awesome careers out there that can get you a career on tech training."
Snyder then turned his focus to the future saying, "It's not just about us today. The real world is about also building for the future. How do we create a stronger foundation to say how can our next generation have an even brighter future." He told the audience he intends to focus on three key issues, career tech education, talent identification and connections, and Michigan's infrastructure. On that count he says, "We can't just stop at roads and bridges (where the Legislature has developed some new funding). We under-invested for decades as a nation and not it's about smart investing for the future."
Cornerstone Chamber of Commerce President Chris Heugel said, "We were honored to have Governor Snyder as this year's key note speaker and are incredibly humbled that he accepted our invitation. More importantly, this morning we recognized and celebrated the achievements of local businesses in our great community and were so proud to introduce the two new awards; the Young Business Leader of the Year and the Pat Moody Award. Congratulations to this year's winners on the impact they are making in Michigan's Great Southwest."
Here is a compilation of the awards and their winners:
YOUNG BUSINESS LEADER OF THE YEAR AWARD
The first recipient of the Young Business Leader of the Year Award was Alex Schaeffer with Kruggel Lawton CPAs.
Alex is a talented, highly-respected and professional leader in the communities served by the Cornerstone Chamber. As a CPA and Senior Manager at Kruggel Lawton (formerly Schaffer & Layher) Alex exhibits integrity, excellence and service to his clients, colleagues and others in his daily life. Alex leverages his knowledge, experience and skills to serve teach and develop others who rely on his accounting and business expertise.
Alex is a recognized thought leader in his firm on audit and  accounting issues for Michigan public school districts and municipal government entities. The services Alex, his co-workers and his firm provide help residents and taxpayers understand and rely on the financial statements of their local public entities. Alex is steadfastly committed to the area, having grown up locally and graduated from Lakeshore High School. After receiving Bachelor's degrees in Accounting and Finance from Western Michigan University, he returned home to build his career.
Alex lives in St. Joseph and has an extensive network of family, friends, clients and professional associates throughout the area. His leadership also includes serving as board treasurer for the Southwestern Michigan Humane Society and as board secretary for the Southwest Michigan Chapter of the American Red Cross.
SMALL BUSINESS AWARD
Lark's Bar-B-Que was the recipient of the 2016 Small Business of the Year Award.
The Restaurant has become a Benton Harbor Landmark and frequently serves customers from Chicago, South Bend, Detroit and many of the Michiana Communities. Its owners are avid Community Financial Supporters of: Benton Harbor High School & Lake Michigan College Sports Teams, The Annual Benton Harbor Miss Blossomtime Candidate, The Benton Harbor Library and the Local Boys & Girls Club. Most recently the partners expanded Lark's Business by acquiring a Mobile Concession Unit capable of Grilling Foods and Smoking up to 75 Racks of Ribs at a time.
They have since grilled and Bar-B-Qued Q their way through the Senior PGA Championship, The St. Joe Blues Fest, The Berrien County Youth Fair, Stevensville, Watervliet and Coloma during the summer of 2016.
Partner Marv Raglon of Lark's Bar-B-Que accepted the award.
EXCELLENCE IN CUSTOMER SERVICE AWARD
M&W Tire was the recipient of the 2016 Excellence in Customer Service Award.
Customer service is the cornerstone of M&W Tire. They treat guests like close family members, looking out for their safety and controlling expenses by not pushing services just because they are high profit. No aggressive sales techniques, just presenting the facts and allowing each person to make a well informed decision.
When a guest is too busy to wait for their repairs they offer pick up & delivery service, shuttle service as well a fleet of courtesy cars they can use at no charge. The work area is clean and bright as well with a bright blue floor and state of the art equipment that assures the job is being done right with test results, inspections and results electronically recorded, printed and/or emailed.
Connection to the community is important and M&W Tire makes this a priority. With several give back programs for local schools, charities and sports programs M&W will donate cash, time and services to the community.
Adam Wade, owner of M&W Tire accepted the award.
ECONOMIC IMPACT AWARD & GREEN BUSINESSS OF THE YEAR AWARD
Whirlpool Corporation was this year's recipient of both the Economic Impact & the Green Business of the Year awards.
Whirlpool Corporation is the number one major appliance manufacturer in the world with approximately 100,000 employees worldwide and 4,000 employees in Southwest Michigan.
Whirlpool Corporation is committed to creating products that make life easier for consumers so they can spend more time doing what really matters — being with family and friends. This commitment leads the company to maintain strong connections within the communities where they do business. Great communities are the foundation of great business. Whirlpool works with community organizations to create a collective impact, supporting organizations that assist with the health and wellness needs of area residents, and those who provide safe and affordable housing and promote youth development and education.
Whirlpool Corporation's commitment to corporate sustainability begins with manufacturing and supply chain. Recently, the company reaffirmed its zero waste to landfill goal in every manufacturing facility across the globe by 2022. On the consumer appliance side, Whirlpool Corporation has received 38 Energy Star Awards since 1998 — more than any other appliance manufacturer in the U.S. and Canada. Washers built today use 74-percent less energy and 43 percent less water than those built in 1992, while their capacity has increased by 42-percent.
Additionally, Whirlpool brand's HybridCare dryer merges both heat pump and ventless technologies to solve key challenges when it comes to dryers – energy usage, gentle care for specialty clothing, installation and placement flexibility and eliminating outdoor venting. With the Eco Dry setting, the dryer uses up to 73-percent less energy, and they are right in our very own back yard.
Deb O'Connor, Director Corporate Reputation and Community accepted both awards.
2016 AMBASSADOR OF THE YEAR
Donna Hill owner of Attitudes Salon in St. Joseph was named The Cornerstone Chamber of Commerce Ambassador of the Year for 2016. The Ambassadors are comprised of local business professionals that volunteer their time to the many Chamber events. She has attended every Chamber event in 2016 and is a valuable member of the Ambassador team.
THE PAT MOODY AWARD
Silver Beach Pizza was the first recipient of the inaugural Pat Moody Award.
The owners and team at Silver Beach Pizza have had an incredibly fun 12 years. Their employees who make them so proud, many of whom have started in high school and paid their way through higher education, all the while working when they were able. Silver Beach Pizza would like to thank this great community for making the restaurant the success that it has become. Silver Beach Pizza's customer service is always top notch and they continuously give back to the community in many ways through sponsorships or other donation.
The award was accepted by Dave Costas of Silver Beach Pizza.
Governor Snyder's parting words focused on people. He told the crowd, "The biggest thing is us. It's about making sure we work together. It's a cultural issue. We are often broken into a bunch of different islands. We, as a state, needed to get our act together. We're not fully done, but we've made huge progress, and now we need to stay on the gas."