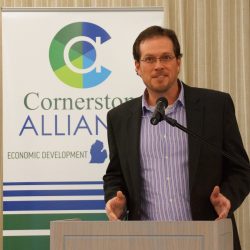 He's been on international foreign trade missions to sell the merits of Michigan's Great Southwest from Milan to Munich and been tabbed as one of the Top 50 Economic Developers in all of North America, so it comes as little wonder that Cornerstone Alliance President Rob Cleveland has drawn an invitation to present at the 2017 Annual Conference of the International Economic Development Council next month in Toronto.
Cleveland, who continues to ride at the top of his game will be joined by more than 1.000 economic development professionals who are expected to participate in this year's event from September 17-20, 2017.
Cleveland will be part of a panel tasked with focusing on the concept behind Rural Workforce Systems: Cultivating, Recruiting and Retaining Talent in Rural Economies. That panel will showcase the tools and resources such communities have when accessing a qualified workforce. The panel will address the uniqueness of rural workforce problems and the required solutions, and share tips from communities across the globe that have proven successful in reversing the trend of decreasing populations in those areas.
Cleveland says he will highlight the Cornerstone Alliance First Choice Program as a tool for talent recruitment. First Choice is a resource for Berrien County businesses interested in attracting the best and brightest talents to out region. First Choice tour ambassadors showcase the area to candidates interviewing here, providing a detailed look into the community including schools, neighborhoods and other areas of interest.
Cleveland says, "We have a very well-kept secret and it truly makes us unique." He notes that, "First Choice is a world-class program and a valuable tool that Berrien County businesses use each and every day to attract new employees to our community. I am excited to share the great story behind First Choice with the international economic development community."
First Choice has been in existence for more than 15 years and plays a significant role in the recruiting process of many Berrien County businesses. Cleveland says, "Candidates are truly appreciative of the vested interest businesses have in their interviewing experience, as they factor in the many considerations that the community offers should they decide to locate here."
The panel including Cleveland and two other economic development professionals representing southeastern Vermont and southeast Iowa will address conference attendees on Monday, September 18, 2017. This IEDC conference is the first outside of the United States and will focus on how to connect, collaborate and create at the global level to contribute to the transformation of local, state and regional economies.
Cornerstone Alliance is a non-profit, investor-governed economic development organization guided by Cleveland, primarily focused on increasing employment opportunities, private sector capital investments and the local tax base in Michigan's Great Southwest; with specialized business services offered in economically distressed areas.