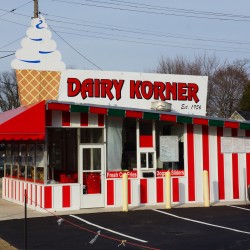 It came about a week later than had been anticipated, and it arrived on a snowy day in Michigan's Great Southwest, but the Dairy Korner in St. Joseph is back up and running…and officially open for business. You can now stop by the long-running ice cream stand for a nice hot breakfast of oatmeal, a cup of coffee and more and then stop back by for lunch or dinner as well…or just any old time for your favorite ice cream treats.
The Dairy Korner is under new ownership as I shared with you a couple of weeks ago, and you can read the rest of that original story right here. Just wanted to update you to let you know that the place is now open and ready to serve you. You might want to take special note of a new burger they have crafted in my honor, which is rather humbling. The "Moodylicious Burger" is a deluxe olive burger with a slab of cream cheese to cap it off. Give it a try…I hope to soon myself. In case you missed it, here's the original story:
The Dairy Korner in St. Joseph has been making kids of all ages smile for more than 60-years and when the "for sale" sign went up at the end of last season, there were fears that those smiles would fade and the end might be close at hand. Despite the dramatic makeover and fresh new look for the iconic ice cream store and diner, some were afraid that a potential buyer might find the land more valuable than the building.
Well rest easy, Dairy Korner lovers. Anthony & Denise Miceli have taken command, after closing the deal last week to buy the business, and they and their kids and a flotilla of employees will set sail as early as next month to breathe new life into the place and keep the spirit alive and well.
The Micelis were in the house this afternoon taking inventory of what's ready to go and what they will need to do to get the Dairy Korner open by their ideal target of March 6th. On top of that, they plan to operate ten months out of the year, closing only for January and February to recharge the batteries for the next go round.
When they first came to town a little over eight years ago, they actually were interested in acquiring the place, but it wasn't for sale, and despite occasional "for sale" signs that would pop up out front over the years, the long time owner never really got serious about actually selling until Greg Rood successfully purchased it, performed the makeover, and ran the shop for a full season last spring and summer. When he closed for the season he put the business on the market, and that's when the Micelis jumped into action to make their long standing dream come true.
Anthony worked as a Claims Resolution Manager in the Legal Department at Whirlpool for just under nine years, and Denise spent 20 years as a Starbuck's Coffee Shop manager in Tinley Park, Illinois outside of Chicago before moving here.
The Dairy Korner has been a treat for tens of thousands of customers since first opening in 1956, and fans will be happy that the new owners are not only dedicated to keeping the traditions alive, but enhancing them even further.
Tony says they fully intend "to become a part of the fabric of the community," and he wants it to be a regular gathering place for people like the friends who used to gather on site to play bridge. Both say they want people to consider themselves "friends and family, not just customers."
The diner is making plans to routinely host opportunities to give back to the community through special fundraising efforts with the likes of Make A Wish, St. Jude's, the Shriner's Hospital for Children, Count Your Blessings Day, and others where 100-percent of the profits will go toward such causes.
The Miceli family comes with four children who also be involved in the operation including Grace who says her favorite offering there is the Ice Cream Flurries (which is also her mother's top choice), Anthony Junior who pegs the Vienna Beef Hot Dogs as his favorite, and dad's top pick is the good old fashioned Ice Cream Sundae. The two other sons who were not at the shop today include Joey, who also works at The Mark III in St. Joe, and John who is attending Western Michigan University.
The Dairy Korner has been ensconced at 1605 Lakeview Avenue in St. Joseph just off of Lake Shore Drive across from Rooster's Party Store for decades and their prime features are the soft serve ice cream and custards as well as a diner-style menu of hot dogs, hamburgers, chicken and more. There are 7 or 8 stools at the front counter, a couple of picnic tables out front and a side canopy has seating for 36 additional patrons.
Staffing essentially includes about 16 to 17 full and part time employees, and the Micelis are working now to contact past workers to see if they want to continue to work there.
Once they are open, with the target being March 6th, look for Dairy Korner to be open seven days a week starting at either 7 or 7:30am with Infusco coffees, breakfast sandwiches and oatmeal, and staying open til about 8pm in the shoulder seasons of early spring and late fall and winter but naturally later hours in prime summer seasons.
They also will obtain a premium hot chocolate beverage by Ghiradelli, and will tweak the menu with a few additions or subtractions based on demand the complexity.
The new owners are truly a family affair, focused on quality offerings and top notch quality customer service, and they very much look forward to welcoming you about a month from now, so stay tuned!