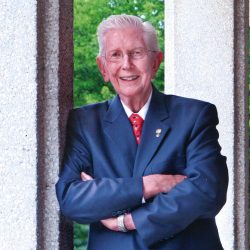 The man who worked diligently to bring higher education to the front of the stage in Cass County, and then advocated for community colleges at every level from township halls to the halls of the United States Congress, has passed away. It is the end of a dynamic era for Southwestern Michigan College as we learn today of the death Sunday of Dr. Fred L. Mathews, the lifelong champion who not only founded the college but chaired its board of trustees for half a century.
College officials shared the news on their Facebook fan page shortly after 9am today saying simply:
It is with great sadness that we announce Dr. Fred L. Mathews has died. Dr. Mathews helped establish and guide Southwestern Michigan College through its first half century as Board of Trustees chairman. He passed away peacefully on Sunday, March 19, 2017 at Lakeland Regional Medical Center in St. Joseph, MI.
A Celebration of Life will be held at 10:30 A.M. Wednesday, March 22, 2017, at Calvary Bible Church, 27032 Marcellus Hwy, Dowagiac, MI 49047, with Pastor Stacey Wilder officiating. Interment will immediately follow at Riverside Cemetery. Friends may visit with the family on Tuesday, March 21, 2017, from 4:30 P.M. to 7:30 P.M. at Clark Chapel & Cremation Services, 405 Center Street, Dowagiac, MI. Memorial contributions in Fred's honor may be made to the Dr. Fred and Thelda Endowment Fund at Southwestern Michigan College.
Fred Mathews was an ardent supporter of all things community college and was a junkyard dog in confronting any politician who failed to place the same level of appreciation on higher education that he and his colleagues did. I personally witnessed his tenacity and drive on multiple occasions in Lansing and Washington, D.C. as we would lobby together for financial support of the community college system in my own role as a member of the board of trustees at Lake Michigan College.
While he had great respect for those in office, he also had zero tolerance for those who established roadblocks to the things he felt needed to be accomplished and pulled no punches in making it clear where his allegiances could be found.
Dr. Mathews was the founding Chairman of Southwestern Michigan College who went on to continue in the role of Chair for 50 years before retiring two years ago. His son, David Mathews, has served as the institution's President dating back to 1997.
The Mathews name is prominent on the Dowagiac campus, with the collegiate library named in his honor 45 years ago.
Even though he and the political leaders were sometimes at odds with one another, they are showing great respect and honor upon the news of his death.
State Senator John Proos issued a statement saying:
"I am deeply saddened by the loss of a dear friend, Dr. Fred Mathews. Fred was a leader for all of Southwest Michigan and was a voice for good government for as long as I knew him. 
"He was a visionary leader in his founding effort to bring higher education to all Southwest Michigan residents regardless of their socio-economic status. In his capacity as a founder of Southwest Michigan College, Dr. Mathews changed countless lives for the better. He will truly be missed."
Former State Representative Al Pscholka from Stevensville, who now serves as Governor Rick Snyder's State Budget Director had similar thoughts:
"Southwest Michigan has lost a visionary leader with the passing of Dr. Fred Mathews.  As a member of Congressman Upton's staff, I worked with Dr. Fred on the rescue of a group of children from Haiti after the earthquake.  It remains one of my life's greatest accomplishments and it would not have been possible without the leadership and drive of Dr. Fred Mathews.  While he will be forever remembered as the founder of Southwestern Michigan College, his reach was far greater.  He was a compassionate man who was fearless in his beliefs, and was a loyal friend.  Our thoughts and prayers are with his family today as we celebrate the life of a true leader for Southwest Michigan. "
Dr. Mathews was also one of the idea men behind creation of the Michigan Community College Association, an organization he would go on to lead as Chair, and oftentimes spar with over advocacy issues. He earned their highest respect when they presented him with their Distinguished Service Award in 1983.
Dr. Mathews avocation was his optometry business, which brought him to Southwest Michigan in the first place. Two years ago he was awarded Greater Dowagiac Chamber of Commerce's Lifetime Achievement Award, having been a chair of the community's Downtown Development Authority and a director of the Community State Bank of Dowagiac.
A dynamic civic leader in every regard, a faithful advocate for community colleges, a great family man, and winner of many great accolades over the years, his persona will be sorely missed in the community, but his legacy will live on for decades to come thanks to his vision, his guidance, his leadership, and his undying love for the people and places he called home.