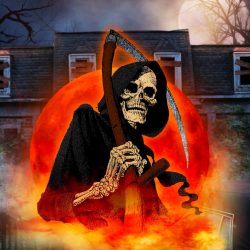 If you count yourself among those who always wants to be first in line…grab your cell phone bill and head for Mishawaka or LaPorte to be among the first to gain a preview of this year's attractions at the Niles Scream Park.
The crew at one of the largest and best Haunted House attractions in the nation will roll out a "Sneak Peek Party" this Friday night but you'll have to follow the rules if you want to be among the elite who will get in that night.
The Niles Scream Park, along with promotional partners Verizon and The CW25, will host their "Sneak Peek Party" to kick off the 2017 season this week. The event on Friday, September 8th will give the public a chance to get an early look at some of the 2017 attractions at the Scream Park which is located at 855 Mayflower Road in Niles.
Tickets are only available by going to one of the following Verizon locations and showing your current cell phone bill to a Verizon employee. The locations are:
Mishawaka (in the University Park Mall at 6501 Grape Road in Mishawaka,  Indiana 46545)
LaPorte (1700 Lincolnway Place in LaPorte, Indiana 46350).
The tickets are good on Friday, September 8th only and will give the opportunity to see the marquee 2017 Niles Haunted House, the new attraction "Possessed" and the always-popular Field of Screams. They are available on a first-come first-served basis while supplies last. They are only available from the listed Verizon locations and will not be available at the Park.
The Park will open its gates at 8:30 pm on September 8th and tours of the shows will follow a set schedule. The shows will be fully staffed with actors and all the scares are the real deal.
The midway with games and food concessions will also be open on Friday evening.
The official Niles Scream Park season starts one week later on Friday, September 15th. The Park is open every weekend after that through the first weekend in November. For exact dates click this link: http://haunted.org
The Niles Scream Park is a non-profit community project that uses approximately 150 to 200 volunteers per night to staff its various attractions. These volunteers represent over 50 Michiana area community and school organizations. Since 1996, more than $1.7 million have been donated to local and national non-profit organizations and to the Niles Scream Park funded college scholarships for students at Niles, Brandywine, Dowagiac, Cassopolis and Edwardsburg High Schools.
For additional information on the Niles Scream Park visit the weblink above, or call 269-445-9184.