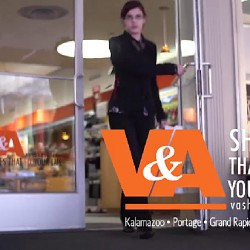 At first blush, news that V&A Bootery's decision to purchase a competitor on the downtown Kalamazoo Mall might not seem like that big of a deal for shoppers at the company's downtown St. Joseph store, however when you look at the big picture, it could be a lucrative boost to inventory and selection options for fans of the store going forward.
V&A Bootery is located in the Landis Clothing Company on State Street downtown, but their flagship store is anchored in downtown Kalamazoo and they have announced their acquisition of Okun Brothers Shoes, a rival shoe-seller a couple of blocks afield along Portage Street in Kalamazoo.
Bill Van Dis is the owner of V&A Bootery's four locations in Michigan's Great Southwest and he says that his purchase of the Okun operation brings with it a great store and a great brand name. He told Kalamazoo reporter Al Jones this week, "We're going to run it as an independent store because it's got a great brand name and a great following itself."
Both shoe stores have long histories in the region, with V&A dating back to its founding in 1923, and Okun Brothers also around since the roaring 20's.
While the acquisition doesn't directly impact the St. Joe store at 321 State Street in the central business district, Okun's line of work shoes and boots that are otherwise not a part of regular V&A inventory should provide new access to such products for local clients going forward. The larger buying power of an expanded group should also help in some regards. Van Dis says his intent is to sustain the specialty nature of Okun Brothers work shoes "and unusual sizes," elements that V&A has not typically focused on.
V&A's focus has been centered what he considers being a lifestyle and comfort shoe store featuring casual and dress shoes for men and women.
Okun has seven staff members in Kalamazoo, and all will be retained in the private deal whose terms were not disclosed by Van Dis.
V&A Bootery has long been a family-owned company, and Van Dis is a third generation owner who also employs the fourth generation of the family in the form of his son Dan.
In addition to the St. Joe store and V&A's flagship presence on the Kalamazoo Mall, the shoe store has shops on 28th Street in Grand Rapids and in the Southland Mall on S. Westnedge in Portage.