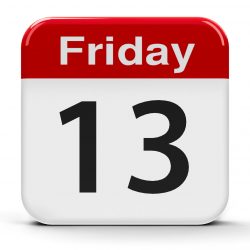 If Friday the 13th is supposed to be the unluckiest day of them all, Michigan Lottery players are working overtime to bust that myth. In fact, the lottery bureau itself says, "Don't tell Michigan Lottery players that Friday the 13th is an unlucky day!" They've got the ammo to back up that challenge, too. Ammo in the form of more than $155-million in big prizes won by Michigan Lottery players in multi-state games on Friday the 13th occurrences beginning in 2003.
Lottery officials tell us the Mega Millions game has been particularly lucky for Lottery players on Friday the 13th. Since 2003, Lottery players have won more than $155 million in big prizes playing Mega Millions on Friday the 13th.
In fact, three Lottery players won Mega Millions jackpots on the supposedly unluckiest of days, including:
Fred Topous, of Kent City, who won a $57 million jackpot on June 13, 2008
Kendall Warren, of Kalamazoo, who won a $27 million jackpot on Friday, May 13, 2011
Kelsey Zachow, of Port Huron, who won the game's $66 million jackpot on Friday, June 13, 2014
In addition to the jackpot prizes, 30 lucky players have won prizes ranging from $10,000 up to $1 million. You might want to take note of that win big-skip two years-win big pattern, because we've skipped two years since the last Mega Millions Jackpot win in 2014 on a Friday the 13th.
So, Friday could be another lucky night for a Michigan Lottery player with a $43 million jackpot up for grabs.
Mega Millions drawings take place each Tuesday and Friday evening. Each Mega Millions play is only $1. For an additional $1 per play, players have the opportunity to add a "Megaplier" that can multiply non-jackpot prizes by up to five times. Mega Millions tickets are sold in 44 states, Washington D.C., and the U.S. Virgin Islands.
About 97 cents of every dollar spent on Lottery tickets benefits the state in the form of contributions to the state School Aid Fund, prizes to players and commissions to retailers and vendors. In 2016, the Lottery provided a record $888.9 million to help support Michigan's public schools. Since it began in 1972, the Lottery has contributed more than $20.5 billion to support public education. For additional information, you can follow the Michigan Lottery on Facebook, Instagram, Twitter and online at www.michiganlottery.com.
Oh, and…Good Luck!