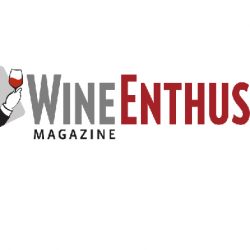 Attention winemakers, wine tasters, wine drinkers and wine fans…the world's largest periodical for wine and spirits is officially taking note of the Southwest Michigan Wine Trail. In fact, that publication, Wine Enthusiast Magazine has given Dablon Vineyards Estate 2015 Cabernet Sauvignon a 90 point rating. That is the highest rating the magazine has ever given a Michigan Cabernet Sauvignon. Dablon Vineyards is located along Shawnee Road near Baroda.
Fiona Adams, Senior Tasting Coordinator for Wine Enthusiast Magazine, says of the wine, "Delightful aromas of red plum and cherry tomato float above bread dough and basil on the nose. The juicy palate brings tart cherry and more plum into the mix, with white pepper and green herb accents. This offers a light and easy mouthfeel full of vibrant acidity and structured by velvety tannins. The juicy cherry finish is utterly charming." You can see her actual comments from the magazine at the electronic link below:
https://www.winemag.com/buying-guide/dablon2015-cabernet-sauvignon-lake-michigan-shore/
 William Schopf is owner of Dablon Vineyards. He tells us, "This is the first time we have submitted our wine for rating by one of the major wine magazines and we are delighted the quality of Michigan wine has been recognized."
Wine Enthusiast Magazine was founded in 1988, and is designed to bring consumers vital information on the world of wine, with hundreds of wine reviews in every issue. The magazine has grown to become the world's largest periodical for wine and spirits.
Dablon Vineyards is a Lake Michigan Shore AVA estate winery located outside of Baroda at 111 W. Shawnee Road, growing European varietals on its 75 acre estate. They specializes in dry wines and in addition to Cabernet Sauvignon grow Malbec, Cabernet Franc, Merlot, Syrah, Tannat, Petit Verdot, Carmenere, Tempranillo, Chardonnay, Riesling, and Pinot Gris. Learn more online at the link below: