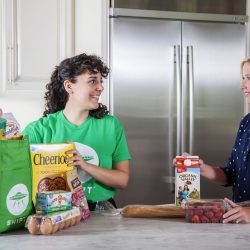 It just might be the answer to the shopaholics among us who like to shop but just can't afford it. Shopping for others. Now that Meijer and other stores are utilizing the services of the grocery delivery company Shipt in Michigan's Great Southwest and elsewhere in and around Michigan, they're ramping up to hire about 5,000 workers to do that customized shopping for customers looking to have things delivered directly to their homes. It can be a pretty nice gig, too, inasmuch as the average Shipt Shopper makes between $17 and $20 an hour, including tips.
Shipt is the fastest growing online grocery marketplace and they announced this week that the company will hire more than 5,000 additional Shipt Shoppers to serve the region including the Lake Michigan shoreline communities, Grand Rapids, Detroit, Chicago, Cincinnati, and Indianapolis metro areas. Shipt provides home delivery from local Meijer and other stores to members throughout the Midwest, and is now looking to grow its local workforce across the region to meet increased demand.
Bill Smith is founder and CEO at Shipt. He says, "Shipt Shoppers play a huge role in our success — they are the ones interacting with our members on a daily basis." Smith adds, "Over the last two years since the launch of Shipt, we have seen interest in the service steadily increase, due to the amazing delivery experience provided by our Shoppers. By expanding our workforce to support demand, we will be able to continue providing the best customer experience to our growing community of members."
Shipt connects its members with a community of Shoppers who are responsible for ensuring complete, accurate fulfillments of each order. Shoppers are able to set their own schedule through a custom app which allows them to select orders that work with their daily routine. While many Shoppers enjoy the flexibility of setting their own schedules, shopping with Shipt also creates a sense of community by allowing Shoppers to connect with each other, members, and their cities.
Shoppers must be at least 18 years old, have reliable transportation and a current driver's license. Shipt thoroughly screens and background checks all applicants. If you'd like to apply, you can visit Shipt.com/be-a-shopper and select "Apply Now." There's a link below to do just that.
The Shipt system, much like Uber, allows shoppers to make their own schedule, with no minimum or maximum time that they must work to be part of the system. Shipt Shoppers deliver the orders that have been placed online by members of the service.
For more information on Shipt and current service availability, visit Shipt.com.
Shipt, the nation's fastest growing online grocery marketplace, works with leading retailers and local stores to deliver groceries via a community of shoppers and a convenient app. Since its founding in 2014, Shipt has been rapidly expanding and now offers quality, personalized grocery delivery to over 25 million households in 69 markets across the country. Shipt offers unlimited grocery deliveries to members for $99 per year. The company currently has corporate offices in Birmingham, AL, and San Francisco, CA. For more information, visit Shipt.com.
Here's the link for the Shipt application process for those interested in hiring on to the service: