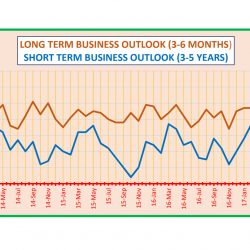 Characterizing the pattern as largely unchanged for nearly seven years now, Professor Brian Long from Grand Valley State University in Grand Rapids says the West Michigan industrial economy gathered a bit of a reprieve due to the devastation of Hurricanes Harvey and Irma which have boosted the automotive market at a time when sales were flagging, having grown long in the tooth.
Dr. Long, who is Director of Supply Chain Management Research at GVSU says, "This month's report is fairly typical.  Pretty much the same slow growth we've seen for the past  seven years." Regarding his September report Long then adds, "However, the uptick in auto sales brought on by the recent hurricanes have given the auto industry a badly needed breather.  This trend will probably continue for another month or two, but the (so far) orderly decline in auto sales will then probably resume."
Long's new update from the Institute for Supply Management says the West Michigan economy is "still going strong." His survey, covering the last two weeks of September, shows a New Orders Index — his measure of business improvement — rose quietly to +21 from +19, while his Production Index "remained positive, but retreated modestly" to +17 from +20.
From the purchasing offices of major industries in West Michigan, Professor Long's Purchasing Index slowed to +14 from +24, when the Finished Goods Inventory remained unchanged. However, because of the recent hurricanes and otherwise strong business conditions, some classes of inventories are being drained across the nation. Hence, Long's Raw Materials Inventory Index fell to +3 from +16, which the Lead Times Index remained stretched at +30, with "no one expecting relief any time soon."
Long tells us that, "Just as we have reported for most of the year, all of our individual industries still remain on track, although slightly less robust." He points out that most auto parts suppliers have been concerned throughout the summer about the slower auto sales, "So the September bounce in sales seems to have forestalled any immediate fear of an automotive recession lurking around the corner."
Long reports that major office furniture firms "still appear to be topping out at the present level, but the smaller firms are having a little more success." Capital equipment fabricators still have business coming in, but the pace has slowed for most firms. For industrial distributors Long characterizes the mood as "stable."
Turning to the outlook factors, Long tells us that "business optimism still remains strong in West Michigan." His September survey of the Short Term Business Outlook, asking firms about the next three to six months, remained unchanged at +30. Meanwhile, looking out in the three to five year range, the Long Term Business Outlook edged slightly higher to +45, up from +39.
Additionally, Long suggests that the collection of anecdotal comments "continue to be cautiously optimistic, although most firms clearly recognize that there may be little room for additional growth unless something like the long-promised tax cuts finally materialize."
Summing things up, Dr. Long takes the high road, suggesting, "The economic path ahead of us continues to be positive for the foreseeable future IF the geopolitical situation remains stable."
As always, here is a sampling of the verbatim anecdotal comments provided to Dr. Long by survey participants at the end of September:
"With summer about over, vacations done, kids back in school, it's time to get back to business! 'Let's go look at that machinery'!"
"August was one of our best months of the year, BUT it looks like we are paying for that in September. If things don't pick up the last two months, this may be the worst month of the year. It's certainly not the way we wanted to end the quarter."
"August was surprisingly robust."
"Our third quarter is finishing solid as expected. For the fourth quarter, we are seeing an uptick."
"So far, given the damage in the Houston area, the supply disruptions are less than we expected."
"We are setting pretty good, even with the disruptions from the hurricanes. We are currently slow, but picking up as we go into the fourth quarter."
"Business is steady, however, we are seeing some product lines much slower than others. We should be busier."
"The fourth quarter will be very busy as usual. Business is solid."
"There is still lots of activity in the sales area."
"Business is steady, but quoting for our customers has slowed."
"Our business is steady."
"The chicken or the egg is going on here. Work is available to win, but will the bodies (workers) be available if the wins occur."
"Business outlook continues to look great!"
You can read Dr. Long's full report for September by clicking the link below: