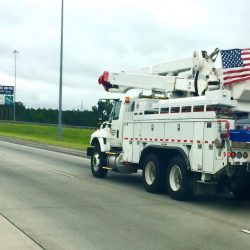 Anxious homeowners who have seen ice-laden tree limbs topple power lines across Michigan's Great Southwest over the years are very familiar with the occasional influx of line repair crews who arrive in our neighborhoods driving trucks from utility companies all over the eastern seaboard and into the deep south. Now, in the aftermath of Hurricanes Irma and Harvey, we're fortunate that Indiana Michigan Power Company is able to return the favor.
Perhaps you've seen image of the veritable army of electric utility bucket trucks staged in key areas of the south even before the brunt of the storm struck, and now they are being deployed in huge numbers to undertake the Herculean task of getting power back online for everyone affected by the storms.
Today, Indiana Michigan Power announced they are sending about 75 additional employees and contractors to storm-ravaged Florida and Georgia, bringing to more than 350 the number of employees and contractors I&M is contributing to those restoration efforts.
Most of those included in the new deployment are foresters who are going to Georgia to help clear trees, branches and other vegetation from electric equipment and rights of way. Most of those previously deployed are foresters and line workers working to restore power in Florida.
Line and forestry crews from throughout I&M's service territory will work 16-hour days to help turn the lights back on. The duration of their stay is uncertain. A deployment of up to two weeks is typical, though some crews could remain longer, and some returning crews could be exchanged with additional employees and contractors.
More than 30 I&M employees recently returned from Texas after helping restore power in the wake of Hurricane Harvey.
I&M is also expressing deep thanks to their employees and contractors for their dedication and determination to safely restore power.
The I&M team shared with us the photo of a proud utility crew flying an American flag as they begin their deployment to the deep south on this next mission.