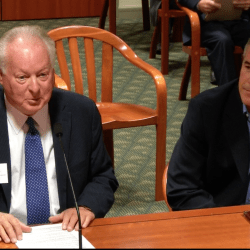 Pat Brandstatter's advocacy for transportation solutions in Michigan's Great Southwest is becoming legendary. His steady drumbeat on behalf of those with limited mobility took him to Lansing Wednesday to testify before the Michigan Competitiveness Committee side-by-side with a key Kinexus exec.
Brandstatter is President of Kruger Plastics in Bridgman. He also is a key player in the Michigan's Great Southwest Strategic Leadership Council where he heads up the transportation discussion. Yesterday, Brandstatter and Kinexus Senior Director of Innovation Duane Berger were on the stump against Driver Responsibility Fees in Michigan, calling them a barrier to far too many workers in the state.
Even Michigan Secretary of State Ruth Johnson has called for the removal of that fee structure. A bipartisan seven-bill package has been introduced to the Michigan House that would grant full amnesty to more than 300,000 motorists who owe the state Driver Responsibility Fees. If passed, this legislation would wipe out the debt completely on October 1, 2018.
The Secretary of State says, "The far-reaching impact of Driver Responsibility Fees has been simply devastating to the people we serve." She adds, "Too many Michigan residents lost their licenses because of these automatic, excessive fees, which meant they couldn't take their kids to school or get to work. And that, in turn, hurt families and local businesses who couldn't find enough qualified employees."
Brandstatter knows all about that. He testified yesterday, "On a local level, we see Driver Responsibility Fees as a large barrier in getting our staff to and from work. The removal of these fees would make a significantly positive impact on our region and the state."
Driver Responsibility Fees are a state-level surcharge that former Governor Jennifer Granholm and the legislature tacked onto municipal traffic violations and fines back in 2003.
State Representative Lee Chatfield is Chair of the Michigan Competitiveness Committee. He says, "A key factor in our skilled talent gap is the lack of transportation. This package will help remove barriers to reliable transportation for Michigan families and job-seekers, resulting in a larger talent pool."
In addition to state legislators, local business owners and community stakeholders have noted the negative impact of Driver Responsibility Fees.
In addition to Brandstatter's comments, Kinexus exec Duane Berger says, "We testified today to bring light to a barrier that employers in Southwest Michigan are experiencing across the board, and that's transportation. We applaud our partners in the state legislature and Secretary Ruth Johnson for leading on this important issue for Michigan businesses and working families."
Kinexus is an organization that invests its time and resources into creating integrated solutions for business, workforce, and community challenges to promote economic vitality in the Southwest Michigan region. For more information, you can visit www.Kinexus.org, follow along on Twitter @KinexusGroup or "like" them on Facebook @KinexusGroup.
In the photo accompanying this story on Moody on the Market.com, Berger (l) and Brandstatter (r) testify before the legislative forum in Lansing Wednesday. (photo courtesy of Kinexus)