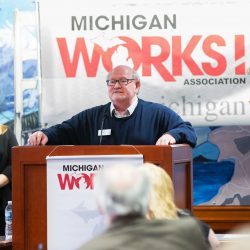 One of the most dedicated workforce advocates in the entire state was recognized for nearly 40-years of tireless energy at a statewide conference, making colleagues at Kinexus proud to have his services on their team. The change agents at Kinexus watched from the sidelines as Orrin Bailey was honored at the Michigan Works! Association Annual Conference in Mt. Pleasant this week.
Bailey was honored at the statewide workforce conference yesterday for his commitment to developing a pipeline of skilled and competent talent in Michigan's upper peninsula and here in the southwest region.
Recognized with the Michigan Works! Association's 2017 Ralph Loeschner Outstanding Service Award, Bailey received the award in front of colleagues statewide.
Luann Dunsford is Executive Director of the Michigan Works! Association. She told the crowd, "For nearly four decades, Orrin Bailey has provided tireless, highly-respected advocacy for Michigan's workforce." She adds, "He is committed to ensuring long term success for residents across the state and has played a significant role in driving Michigan's economy forward."
Bailey served as the CEO of the UPWARD Talent Council for nearly 25 years and is now with Kinexus.
Dunsford says, "Under Orrin's leadership, UPWARD Talent Council has delivered services to regional businesses and individuals in the Upper Peninsula of Michigan, covering more than 17,000 square miles for approximately 310,000 residents." She told the crowd, "His leadership has never flagged or failed, but has worked to inspire and encourage others to achieve more than they ever thought possible."
Kinexus' mission and theme focus on the building and strengthening of our economy, workforce and community. The organization helps businesses create and retain good jobs, prepares workers for jobs and improves Michigan's business climate.
In addition to his service at various Michigan Works! organizations throughout the state, Orrin holds a variety of offices and memberships that emphasize his commitment to workforce development. During Orrin's tenure, Michigan Works! has received numerous awards from national, state and local entities.
Dunsford concluded, "Orrin has devoted his knowledge and experience to the workforce system throughout his career and is an outstanding advocate for all of those who work in economic, workforce, or community development."
Established in 1987, the Michigan Works! Association fosters high-quality employment and training programs serving employers and workers by providing support activities and a forum for information exchange for Michigan's talent development system. For more information, visit http://www.michiganworks.org, or call (517) 371-1100.
The photo of Bailey at the conference accompanying this story on Moody on the Market.com is courtesy of the Michigan Works! Association.