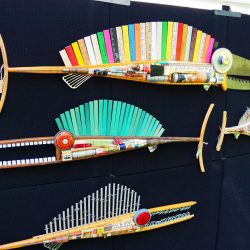 As we watch for the first measurable snowfall of the holiday season this week, there are also many among us thinking about the warmth of a July summer day along the bluff in St. Joe. Some of those are already thinking very seriously about the 57th Annual Krasl Art Fair on the Bluff coming next summer.
While most of us are preoccupied with finding the perfect Christmas gift for someone special, the arts community is already concentrating on the application process for one of the largest, most prestigious art fairs in the nation in mid-July.
Applications are now open, believe it or not, for artists to apply to the 57th Annual Krasl Art Fair on the Bluff, with a deadline to apply by Wednesday, January 31, 2018 12:00 a.m. (Midnight) EST.
The 57th Annual Krasl Art Fair on the Bluff will be held in Lake Bluff Park in downtown St. Joseph, on Saturday, July 14, 2018 from 10:00am to 6:00pm and Sunday, July 15, 2018 from 10:00am to 5:00pm. Artists from across the United States will join together to bring fine art and fine crafts for sale to the public at this nationally ranked art fair. Each summer, this juried art fair welcomes over 50,000 guests, but only 200 artists will be accepted to be in that showcase. Artists may apply online by Midnight, January 31, 2018 through ZAPPlicationR at the link below:
Applications are reviewed by a five panel professional jury on Wednesday, February 21, 2018. The full-day jury is located at The Mendel Center on the campus of Lake Michigan College located 2755 E Napier Avenue in Benton Harbor. The public is welcome to attend to observe the jury process.
All applicants must adhere to the policy of one application per category. The non-refundable application fee is $45 with a $10 discount if applying before January 1, 2018, and payment must be received by the application deadline. The Krasl Art Fair on the Bluff is a fine art, fine craft show. Only objects which are fully handmade by the artist will be accepted.
The Krasl Art Fair on the Bluff started as a "clothesline" art fair by the St. Joseph Art Association and grew over the years to national prominence, being ranked in the top 30 national art fairs since 2009 in Sunshine Artist Magazine, and 58th in Art Fair Sourcebook. The event, which is held in Lake Bluff Park in downtown St. Joe, displays the work of some 200 artists, attracts thousands of visitors during the event and features free live entertainment, a food court, and numerous visitor amenities.
The Krasl Art Center is a 501 (c) (3) non-profit organization and is located in a 17,500 square foot, three-story building in downtown St. Joe overlooking Lake Michigan. The center has three public galleries, five studios, a library/lecture room, a black and white wet darkroom, a gift shop and a permanent collection of 41 sculptures.
Through its mission of bringing people and art together, the KAC offers thoughtful exhibitions, community events such as the Krasl Art Fair on the Bluff and Artisan Market/Soups On, engaging classes, outreach opportunities, and cultural exploration.
The Krasl Art Center galleries are open Monday through Saturday from 10:00am to 4:00pm with Thursday hours extended to 9:00pm, and Sunday from 1:00pm to 4:00pm. Gallery admission is free; however, donations are appreciated. For more information, you can visit online at www.krasl.org or call 269.983.0271.