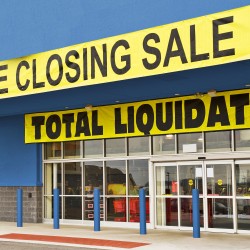 With the ever increasing expansion of technology, the move from "brick and mortar" to "click and order" has claimed a major victim this week in the form of a once robust retailer in the form of Grand Rapids-based MC Sports, a sporting goods chain that once had a sizable store in the Benton Square Mall on M-139 in Benton Harbor as well. The company filed for Chapter 11 bankruptcy in Grand Rapids Federal Court yesterday and says they will shut down the remaining 68 stores in the upper Midwest, including nearby stores in Kalamazoo, Portage and Elkhart.
As part of an ongoing process to restructure the company, MC Sports initiated voluntary reorganization proceedings Tuesday citing multiple factors including the inability to compete with online resellers and changing consumer preferences among others.
Bruce Ullery is President & CEO of MC Sports. He says, "After a valiant and concerted effort by MC Sports' associates, vendors, landlords, and outside professionals to restructure the Company's balance sheet and operating performance, the Company was unable to reach an agreement on a viable out of court proposal. The only alternative to address our immediate liquidity issues is to commence liquidation sales at all stores, while concurrently expediting our pursuit of alternative financing and going-concern sale options under the protections of Chapter 11." He adds, "To lead our exploration of alternative options, the company recently retained the independent advisory firm, Stout Risius Ross Advisors, LLC."
Ullery says like many retailers in the sporting goods industry, the company has faced increased competition, the blurring of distribution channels by key athletic and outdoor brands, increasing direct to consumer sales by key vendors, and the market disruption and growth of e-commerce. In response to these headwinds, the company has been systematically moving to larger format stores that combine hunting, fishing and outdoor categories with traditional sports gear, footwear, and apparel. In addition, it has worked diligently to shed poor performing locations as lease opportunities became available.
Ullery says despite those actions, the company believes that the decision to file and the commencement of liquidation sales are necessary to address the company's immediate liquidity issue. The filing will allow the company to address a number of legacy costs, including long term leases that are no longer in line with current market conditions, and trade debt that has hampered the company's ability to develop a clear path forward.
MC Sports was founded in 1946 in Grand Rapids and gained a reputation as a leading sporting goods retailer, selling quality, authentic sports gear, footwear, and apparel throughout the Midwest. Many people may not realize it, but the MC in the company's name actually stands for "My Community," in an attempt to reflect their commitment to both community and individual aspirations in sport, competition and personal improvement arenas.
As of February 14, 2017, MC Sports operates 68 locations in 7 states throughout the Midwest, including Illinois, Indiana, Iowa, Michigan, Missouri, Ohio, and Wisconsin. It should be noted that the 68 locations include 1 onsite Ski Shop at Cannonsburg Ski Area in Belmont, Michigan.
In 1962, the company began to solidify its reputation as a specialty retailer by focusing entirely on sports equipment, footwear, and apparel. As they moved into neighboring states, the company accelerated its growth by acquiring Morrie Mages' Sports, a three-store chain located in the Chicago area, and a year later, the Illinois based chain Browns Sporting Goods was purchased.
The MC Sports store was the first major anchor in the Benton Square Shopping Center on M-139, in the space that is now home to Hair Joy, a salon and beauty industry supply house.