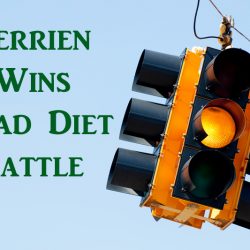 Nobody was more surprised about the Michigan Department of Transportation's proposed "road diet" for M-139 at US-31 last summer than the people of the community who would be most impacted by such a plan on an every day basis. Not only were they surprised, they were incensed that the road bosses would try to force traffic into a huge squeeze by reducing lanes in that area, and they made it crystal clear that in no uncertain terms would they stand for it, and they won the fight.
Those rebels with a cause came out in force at a June 26th public hearing from Berrien Springs, from Oronoko Township and surrounding communities and gave the crew from MDOT and earful. That grass roots effort was successful, as after hearing the community's response, MDOT scrapped the plans to reduce lanes, opting instead for installation of a new traffic signal at the intersection of Red Bud Trail, Edgewood Drive and M-139 north of Berrien Springs. But, don't look for it to happen terribly soon.
The traffic signal was exactly what local residents suggested instead of the "road diet," which would have reduced the number of driving lanes from two lanes in each direction to one lane in each direction, and the existing left-turn lane would remain. MDOT had contended that the reconfiguration would improve safety as vehicles merge onto M-139 from US-31 and Red Bud Trail, with reduced traffic speeds.
Oronoko Township Supervisor Mike Hildebrand says, "We appreciate the folks at MDOT listening to our community." He adds, "Unfortunately, it looks like finding the funding for the traffic signal will be the next challenge as MDOT indicates it will not be installed prior to 2020."
Hildebrand says they intend to work with the local legislative delegation and other folks in Lansing to identify and secure funding as soon as possible, "before something tragic occurs."
MDOT dispatched a letter to Hildebrand at the end of September, saying that they had concluded the review of the section of M-139 between Lemon Creek Road and Red Bud Trail, addressing traffic operations there, speeds, existing capacity and crash histories.
MDOT says their research shows that, "Although traveling speeds are greater than the posted speed, no crash pattern is currently present." They also say a traffic signal is recommended, "However, current funding levels make it unlikely a new signal would be installed prior to 2020." Author of the letter from MDOT is Pete Pfeiffer, Manager of the Kalamazoo Transportation Service Center.
The people spoke, the state listened, now we just have to find the money to accomplish the end result. Stay tuned.