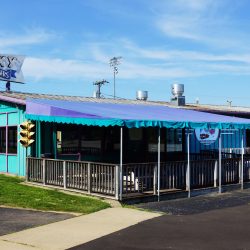 With the final chapter of the renowned run of Roxy's Hamburgers slated to be written tomorrow with a memorabilia sale, we now know what's next for the iconic building at the confluence of Cleveland Avenue and Lakeshore Drive in St. Joseph. While you will be able to work on becoming a human pretzel…you likely won't be able to buy an actual pretzel there. The building has been purchased by the crew at Yoga Life of St. Joseph in order to handle their exponential growth since first appearing on the scene a few short years ago.
Owned and operated by Brooke Margherone, Yoga Life has been a part of the local scene since she returned to her hometown of St. Joseph to establish her own yoga studio alongside her father, Robert Montgomery's, 221 Main Street in St. Joseph and has exploded onto the scene ever since.
Brooke shared a Facebook post this weekend revealing that she is the mystery buyer who acquired the Roxy Diner Building sandwiched between Kelley's Bowl and St. Joseph High School's Dickinson Stadium. She reports, "After weighing the options and getting creative, I realized it is the perfect location to expand our community." She adds triumphantly, "So, we bought the building!"
There had been widespread speculation on who was buying the long time burger joint, however it was clear from the outset that whoever that buyer was had no intention of even keeping the building's heritage as a diner, let alone maintaining the Roxy brand in the market.
Brooke says renovations have already started and she has expectations of being open and operating by the spring of 2018.
What that means for Yoga Life clientele is larger studio spaces…two of them to be exact…more classes to be made available…larger restroom facilities…full locker rooms with shower facilities…a dedicated meditation room…a lobby for community time…a larger on-site boutique with items for sale…an actual dedicated, on-site, parking lot…and "a whole lot more."
Additionally, thanks to new larger spaces and classes there will be more opportunities for you to find your way onto a yoga mat…more workshops with teachers from around the world…and a beautiful place to meet like-minded people as you enjoy your yoga regimen.
Fans of Yoga Life, which will remain ensconced at 219 Main Street in St. Joseph on the second floor above the 221 Main Restaurant & Cocktail House until the new place is ready, and Brooke invites you to "like" her Facebook page for Yoga Life to track the progress of her transition at the former Roxy Diner through picture postings and updates designed to keep you in the loop.
Brooke and her team of nine other instructors will be hard at work planning and executing the full makeover at 2629 Cleveland Avenue in St. Joseph preparing to astound you in the spring of next year. Stay tuned!
By the way, that Roxy Diner Memorabilia Sale will begin at 10am tomorrow morning, Tuesday, September 12th and Brooke says "Everything must go. This includes all pictures, lights, wall hangings, signs, tables, chairs, booths and kitchen equipment." Check it out.