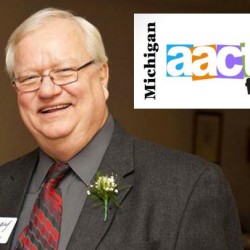 Veteran community actor and Southwest Michigan playwright Larry Nielsen poured his heart and soul into creation of his original stage play Make it Home. He also successfully adapted it for competition earlier this month in the 2017 AACTFest at Bay City. His reward was peer recognition as he garnered the festival's award for Excellence in Original Writing.
Nielsen, who has been active with community theater in Michigan's Great Southwest for decades, most notably with his beloved friends at the Twin City Players, got the award following their presentation at the Bay City competition. The play was directed by fellow community theater veteran Scott Bradford from the Bradford Insurance Agency in St. Joseph.
Make it Home was originally produced for the veteran's military group Lest We Forget and shares the real-life stories of men and women who lived through World War II. The stories featured in the production are enhanced with the projection of war-time photos, sound effects and music.
Nielsen, currently Village Manager for the community of Paw Paw, has been engaged in municipal leadership positions for virtually his entire career, working for many local communities over the course of time.
The 2017 Michigan AACTFest took place over a four-day period, February 9-12 in Bay City. The theater festival is held in odd-numbered years for adjudication and advancement from state to regional and national levels. AACTFest celebrates theater as a learning experience for participants.
The cast of Make it Home included Lisa Cripps-Downey, Zoe Downey, Scott Bradford, Mike Thursby, Jim Richards and Bill Downey.
In addition to Bradford, the production crew also included Playwright and Content Adviser Larry Nielsen, Technical Director Marty Golob and Costumer Julie Smiy.
Technical equipment for this production was sponsored by TPC Technologies, Inc. Presented by permission of the playwright, Larry Nielsen.
Formed in 1932, Twin City Players is one of the oldest, continuously operating community theaters in Michigan. It is a volunteer based nonprofit organization that strives to be recognized for organizational excellence with an abundance of resources, producing irresistible, quality performances in southwest Michigan. The TCP Playhouse is located at 600 West Glenlord Road in St. Joseph. New members are always welcome. For more information about TCP, call 269-429-0400 or visit them online at twincityplayers.org.