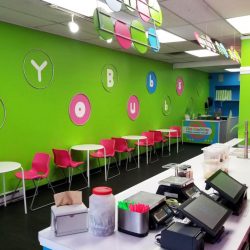 Ben and Amy Iliff will be the first to tell you to do your homework. Not just because they both happen to be seasoned Watervliet public schools teachers, but because it's the only way to make sure that the numbers all add up the way you expect them to. They learned their own lesson recently while researching buildings in downtown St. Joseph for a business concept they were planning to bring to life.
As they scoured the central business district in the heart of downtown St. Joseph they happened upon Yo Bubbs Frozen Yogurt shop which was on the market, available for sale by Bobby Walsh who put the business up for sale at the end of last summer's season to pursue another business opportunity of his own.
The Iliffs tell me that once they "ran the numbers" on their original idea for downtown, they realized that the time simply wasn't right for that particular concept. Instead, they elected to take a closer look at the turnkey operation available at Yo Bubbs on State Street in the heart of downtown St. Joseph. Once they sat down with their realtor and looked at the numbers on the business and after meeting with Bobby, they liked both what they saw and what they heard and teed up an offer. It was accepted, and now the couple is working to get things ready for an opening just in time for Spring Break visitors.
In addition to their work in the Watervliet Public School system, Ben is also a varsity football coach for St. Joseph High School. Once they realized the potential, they realized that Yo Bubbs offers a couple of teachers "the perfect summer job."
Long story short, the Iliffs took ownership of Yo Bubbs on January 25th and have been getting everything in order ever since then. The couple will operate the shop as a joint venture. They live just three miles north of downtown St. Joseph in Benton Township, so the convenience of the popular frozen yogurt shop is also a big plus for them.
Yo Bubbs, located at 319 State Street in downtown St. Joseph, next to White Pine Winery, was first established in May of 2013, so this will be the shop's fifth season in operation. They will open for business on Friday, March 30th from 3pm until 9pm and again on Saturday, the 31st, from noon until 9. They will close on Easter Sunday, but re-open for Spring Break week from noon until 9pm each day until Sunday, April 8th when they are open from noon until 8pm.
After that, Yo Bubbs will maintain weekend hours in April and May from 5-to-9pm on Fridays, noon until 9pm on Saturdays and noon until 8pm on Sundays until they open daily for summer hours beginning after Memorial Day at the end of May.
Ben tells me that they have no plans to make any dramatic changes initially, adding, "We're not going to mess with a good thing that has become a local and tourist favorite, but we will always be on the lookout for ways to improve."
Yo Bubbs pledges to bring you the same great desserts and service that you've grown accustomed to, including the shop's success in garnering the Celebration! Cinema Celebrated Service award a couple of years ago.