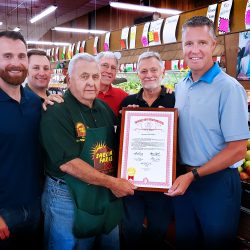 A lot of people share disparaging remarks about Chicagoans who pop up on this side of Lake Michigan for summer celebrations, destination weddings, beach outings and more, but how many times do they forget that there are many Chicago transplants among us who now call Michigan's Great Southwest their home.
Ethan & Rose Shelton were one such couple. Back in 1947 they sold their corner grocery store near Lincoln Park in Chicago and moved their family to Berrien Center where they started Shelton Farms. As their story goes, Ethan barbered in Niles and Rose worked as a payroll clerk at Berrien General Hospital to help make ends meet. Eventually, Ethan owned his own barbershop and Rose became Personnel Manager and filled in as administrator at the hospital.
The two were married for 69 years until she passed away in 1995. Ethan Shelton, however survived to the ripe old age of 110 years old until he passed away on March 19th, 2014, and was extremely active to the very end. He was a ballroom dancer, avid gardener, and a "decent" golfer.
When Ethan was asked about the secret is to his longevity, he always suggested that you chew your food well and eat lots of vegetables. Those who were close to Ethan would say that his eternal good humor, positive thinking and active lifestyle probably contributed to his longevity as well.
Fortunately for thousands of people across our region, Ethan and his entire Shelton family have provided lots of opportunities for all of us to "eat lots of vegetables" over the course of the years. In fact, the Shelton family's unique, vertically integrated family of companies is celebrating the 70th anniversary of Shelton's Farm Market in Niles.
On Shelton Farms they grow, pack and ship apples under their "Family Pride" label. They also grow Concord and Niagara grapes for Welch's, along with selected items for their Farm Market including strawberries, sweet corn, cantaloupe, squash and pumpkins among others.
Shoppers at the unique Farm Market at 1832 S. 11th Street in Niles literally take a step back into the past. The market, which started 70 years ago as a roadside stand, is a center for friendly, old-fashioned customer service, simple whole foods featuring locally grown fruits and vegetables, cheeses, garden supplies, and the area's largest full service meat market.
Not a whole lot has changed since they opened in 1959 other than the place just continued to get bigger over the years and still offers, as they say, "A smile in every aisle, and values to please your wallets."
Also a component to the Shelton family is Shelton's Wholesale Company which distributes fresh produce to the finest restaurants, hotels, universities and institutions within a 200 mile radius.
The 70 year old marketplace features specialists who know produce from the ground up. Those specialists and family members were applauded this week during a visit by State Senator John Proos who presented the family with a special tribute in recognition of their 70th Anniversary celebration.
Proos says, "Family-owned-and-operated businesses like Shelton's Farm Market are cornerstones of our communities and are the heart of our economy." He says, "It all started as a roadside stand selling produce from the family farm. They are still going strong with five generations having worked at the market, including current Niles Mayor Nick Shelton."
The tribute was signed by Proos, State Representative Dave Pagel, Congressman Fred Upton, Lt. Gov. Brian Calley and Gov. Rick Snyder.
Featuring the area's largest full-service meat department, Shelton's Farm Market has grown from a small seasonal "open air" market to the most complete and unique specialty retail food operation in the Michiana area.
Shelton's Farm Market is open Monday through Thursday from 8:30am until 7pm, Fridays from 8:30am until 8pm, Saturdays from 8:30am until 7pm, and Sundays from 9am until 6pm.
Congratulations on 70 years in business to the entire Shelton family.