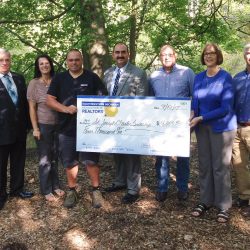 Realtors in Southwestern Michigan continue to prove they really do make a difference. This time thanks to a new Placemaking Grant from the National Association of Reatlors which they are providing to St. Joseph Charter Township for development of the Hickory Creek Nature Trail.
The Southwestern Michigan Association of Realtors received a $4,000 Placemaking grant to help make Saint Joseph Township a better place to live and work by transforming an unused space into a vibrant place for the community to gather and enjoy.
The grant is intended to help Realtor Associations partner with others to plan, organize, implement and maintain Lighter, Quicker, Cheaper Placemaking projects in their communities.
The Southwestern Michigan Association of Realtors will use the funds to provide seed money to spark the first phase of the Hickory Creek Nature Trail development, in partnership with St. Joseph Charter Township.
The first section of the trail will run from Cleveland to Maiden Lane in the township, which has created a gravel pull-off area at the intersection of Cleveland and Hickory Creek. The goal is to turn the gravel area into a park to be enjoyed by the public. The township will install bollards around the perimeter of the parking area.  The grant will cover installing park benches, picnic tables and a grill along the creek for nature viewing and installing signage to make people aware of the park.
Future improvements to the section of the park not covered by the grant may include a bridge to the other side of the creek where the main trail runs, as well as a kayak launch.  Those improvements will require permitting and additional funding.
The second area will be located on township property just north of South Shore Racquet Club.  That public land is a real hidden gem in that very few people know it even exists and it already has hiking trails on the high ground and a trail that leads to Hickory Creek. At the creek, there is an existing trail that follows the sewer line easement from the City of St. Joseph south to Stevensville.  This existing trail is beautiful and features an abundance of wildlife.
Chris Marzke from @properties in St. Joseph was the Realtor sponsor for the Hickory Creek Nature Trail grant.  Marzke explained the reason for his endorsement, saying, "The timing couldn't be better for several community leaders to gather together to establish an interconnected pedestrian trail system as a priority. The grant will have a significant impact on moving the Hickory Creek Nature Trail from a dream to a reality.  The overall project could someday extend from Stevensville-Baroda Road at the south end and follow Hickory Creek to the point it joins the St. Joseph River in St. Joseph."
George Lucas, President of the Southwestern Michigan Association of Realtors says, "Realtors live, work and volunteer in their communities and take immense pride in working to improve them." He adds, "Placemaking can help foster healthier, more social and economically viable communities. It creates places where people feel a strong stake in their neighborhoods and are committed to making things better. This grant will allow us to address areas in our community that are in need of enhancement and revitalization and create a place where friends and neighbors can come together."
Placemaking grants are awarded to local and state Realtor associations to help them and their members create new public spaces and destinations in a community, like turning a parking spot into a people spot or a vacant lot into a pocket park.  Realtor associations and their Realtor members are actively engaged in the community and know the neighborhoods and the properties that would benefit most from these improvement efforts.
Lucas notes, "As the St. Joseph Charter Township area becomes more attractive and welcoming, nearby properties may also increase in value."
For more information on the Southwestern Michigan Association of Realtors placemaking initiative, visit www.swmar.com. To find out more about National Association of Realtors placemaking program, visit realtoractioncenter.org/Placemaking
In the photo accompanying this story on Moody on the Market, provided by the SWM Realtors Associtation, you see Association Executive Alan Jeffries delivering the check to St. Joseph Township Manager Denise Cook and Township Parks/Public Works Supervisor Dave Rindfield. Also attending the ceremony were (from L to R) Robert Kaufman, @properties Harbor Country, George Lucas, Association President, Mark VanDusen, Cressy & Everett Real Estate, Angelo Nutto, Keller Williams Realty, and Chris Marzke, @properties, St. Joseph who was the Realtor® sponsor for the Hickory Creek Nature Trail grant.