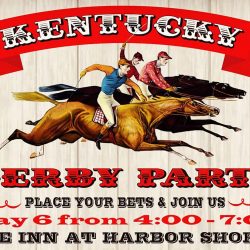 Saturday, May 6th will be a busy and rewarding day in Michigan's Great Southwest. With thousands of people turning out in the streets for the Blossomtime Grand Floral Parade at 1pm that day, weather watchers are hopeful for great conditions ideal for a parade. After the parade is over, everyone is invited to check out the first ever Kentucky Derby Party to benefit the Humane Society of Southwest Michigan slated to take place at The Inn at Harbor Shores in St. Joseph.
Organizers are busy lining up sponsors and encouraging all of us to join the fun…with special encouragement for a display of amazing, stylish, or even outlandish hats in a bid to win the $500 grand prize in the hat contest.
Sponsored by the crew at Pier 1000 Marina, the big event gets underway at 4pm on Saturday, May 6th and your $50 entry fee includes your entry to the party, automatic entry into the Big Hat Contest, and a complimentary Mint Julep in a souvenir cup as well as light Southern Fare while you watch the Kentucky Derby together with fellow Humane Society supporters.
Realtor Ann Gain with @properties is the hat contest sponsor helping create the grand prize big money for the hat prize winner. Everyone is looking forward to an elegant and exciting evening of spectacular hats, spirited racing, and good fun. Kelly Nate promises lots of surprises thanks to The Spa at Harbor Shores, including photo ops in the Photo Booth by Kamera Werks.
Showtime runs from 4pm to 7pm and includes the chance to watch the race in style following your parade viewing fun downtown. The Inn at Harbor Shores is located on the inner harbor at 800 Whitwam Drive in St. Joseph.
Click the link below to register your attendance and line up tickets for the first ever Kentucky Derby Party to benefit the Humane Society of Southwest Michigan and their bid to build a new shelter on M-139 in Royalton Township.
Here's the link:
http://humanesocietyswm.org/event-registration/?action=evregister&event_id=7